Trending news across China on Sept 22
Lackluster sales for new iPhones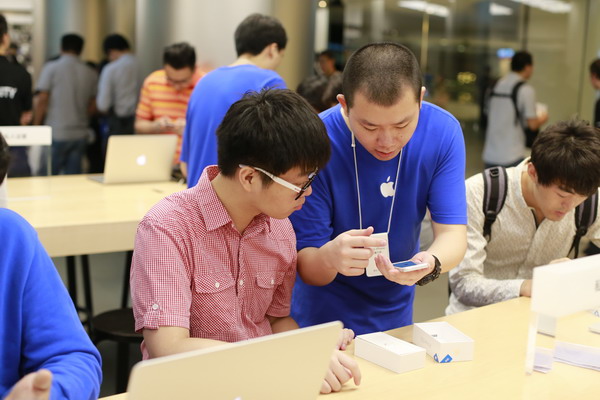 Two new phones, the iPhone 5S and iPhone 5C, which were officially released in China on Sept 20, marking the first time for the phones to be pushed simultaneously in the US and China, have yet to experience heavy sales in the domestic market, Beijing Morning Post reported. Local scalpers are trying to sell the golden iPhone 5S for about 10,000 yuan, but few people are responding, the report said. (www.ifeng.com)
One fierce passenger
A bus driver in Changchun, Jilin province fainted after enduring abuse from a 82-year-old passenger on Sept 20 after the elderly person believed the bus had stopped too far from where he was waiting. The elderly passenger has since apologized to the driver, xwh.cn reported.
Housing prices run amok like a crab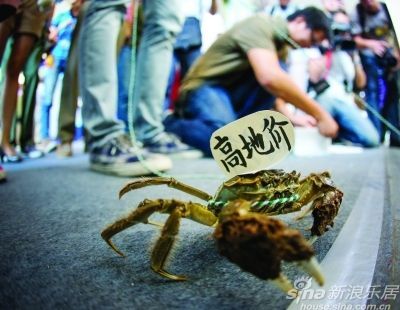 A young man appeared at a housing fair in Nanjing, Jiangsu province on Sept 19 with some crabs, which were labeled with phrases such as "high land prices" and "high housing prices." He said the words represented how China's housing prices are similar to a crab, as they run amok while young people cannot afford, Yangzi Evening News reported. (http://house.sina.com.cn)
Unqualified Party members kicked out
A member of the Communist Party of China surnamed Xue in Pujiang county, Zhejiang province was kicked out due to his superstitious fortune-telling activities. But he wasn't the only one as a total of 55 members in the county have been removed from the Communist Party of China for failing to reach standards in categories such as political stance, organizational discipline, and knowledge of legal concepts, Xinhua News Agency reported. (www.163.com)
Detained for promiscuity
Three men were detained for organizing a party promoting promiscuity in Chaoyang district in Beijing on Friday, the Beijing News reported. About a dozen people were found at the party that was hosted by the men and some of the people there were only wearing underwear when the police arrived, the report said. (www.ifeng.com)
Provocative mooncake model
Raunchy photos showing a scantily clad model covered with mooncakes went viral online, adding fizz to the Mid Autumn Festival. The model, identified as Mo Lulu, shot the photos with her male friends, who were invited to her home in Chaoyang District, Beijing on Sept 18 to celebrate the festival and put mooncakes on her body. Her parents later became furious with their daughter's behavior, which Internet users dismissed as hype. (www.cqnews.net)
Hospital brawl
A patient-doctor spat fell under the spotlight recently as the patient, identified as Yang Wenguang, claimed he was refused on Sept 19 at Haidian 309 hospital, in Beijing because he didn't have enough cash after being diagnosed with a bone fracture. Yang and his cousins exchanged words with the doctor, surnamed Tang, which, according to Yang, quickly developed into a brawl after more than 10 hospital employees rushed in and beat them up. The hospital denied the violence, saying it has long been a policy that a deposit is needed before treatment can be given to a patient. (www.xinhuanet.com)
WeChat benefits
Famous actor Chen Kun recently came under fire for allegedly making 7 million yuan ($1.13 million) via WeChat a day, a popular instant messaging app. Chen became the first celebrity to test the waters by charging fans 18 yuan a month or 168 yuan a year for access to special releases such as personal photos and music from his public account. The amount would be a big and easy sum to achieve considering Chen has a fan base of 57 million. Chen dismissed the reports, saying that what he did on WeChat was for charity. (www.people.com.cn/www.northnew.cn)

Editor's picks

Copyright 1995 - . All rights reserved. The content (including but not limited to text, photo, multimedia information, etc) published in this site belongs to China Daily Information Co (CDIC). Without written authorization from CDIC, such content shall not be republished or used in any form. Note: Browsers with 1024*768 or higher resolution are suggested for this site.
Registration Number: 130349