Police disclose details of blinded boy case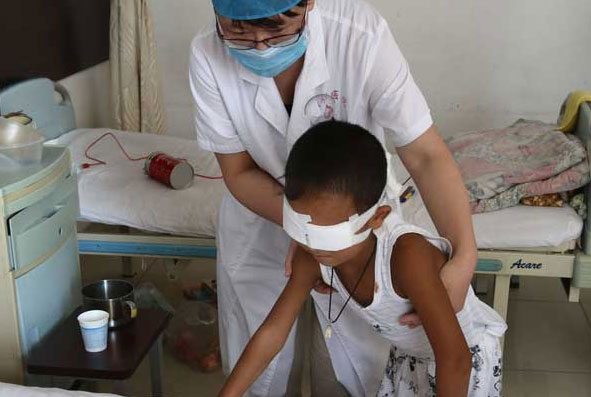 Guo Bin, aided by a doctor at Shanxi Eye Hospital in Taiyuan, tries to walk during a rehabilitation training program that started on Sunday.[ZHANG YUN / CHINA NEWS SERVICE]
TAIYUAN - Police in North China's Shanxi province disclosed on Wednesday night details of a horrifying case in which the eyes of a 6-year-old boy were gouged out, in response to mounting doubts over the police's accusation his late aunt was the suspect.
Zhang Huiying, 41, the boy's aunt, was identified by police as the suspect based on investigations and DNA test results on Tuesday. She jumped in a well at her home and died on August 30.
But many people, including the boy's relatives, doubted the authenticity of the accusation with conflicting information circulating on the Internet and in media reports.
On August 24, the boy, Guo Bin, was lured by an unknown woman with yellow-dyed hair into a field, where she gouged out his eyes, according to initial media reports.
While according to Zhang Liqing, a senior police officer from Linfen municipal public security bureau, Guo insisted it was a woman with black and long hair who attacked him.
Many people are curious why the boy could not recognize his own aunt.
"I asked the boy if the woman looked like his aunt. He first said yes but later, no," said Zhang.
"A traumatized child is not in a stable mood after an incident. He could only confirm it was a woman," Zhang added.
An examination of a purple shirt with dozens of bloodstains found at the scene on August 30 showed that it contained DNA of both Guo and Zhang, according to Han Zhihui, a criminal investigation expert with the bureau.
Zhang Huiying was also not one of the 12 people who tried to give the boy emergency aid, according to the police.
"Witnesses have also confirmed a woman in a purple shirt took the boy away," said Zhang Liqing.
The investigation had proved that the shirt was left by Zhang Huiying and she was the only person to wear it, said Han.
The details from the police seemed not strong enough to convince the public.
"It is not proper and against procedure to ask a victim if the suspect looked like a specific person. It is more likely a presumption of guilt," commented Xiaotianmi on Sina Weibo, a twitter-like microblogging service.
"You can not say a person who did not take part in an emergency aid is the suspect," wrote another comment.
Doubts still linger as the motive of the boy's aunt is still unclear.
There were reports saying Zhang Huiying had a dispute with Guo's parents over the care of senior members of the family.
While Guo Zhiping, the boy's father, told Xinhua on Wednesday evening that "we have sound relations with each other."x   A medical report from the Shanxi Ophthalmic Hospital where the boy was treated showed that Guo's eyelids were cut with a sharp instrument as the wounds were straight incisions. But the boy said the woman was using a wooden stick to gouge his eyes, according to a local media report quoting his father.

Editor's picks

Copyright 1995 - . All rights reserved. The content (including but not limited to text, photo, multimedia information, etc) published in this site belongs to China Daily Information Co (CDIC). Without written authorization from CDIC, such content shall not be republished or used in any form. Note: Browsers with 1024*768 or higher resolution are suggested for this site.
Registration Number: 130349