Doubts raised over blinded boy case
By Hou Liqiang in Qiaojiazhuang, Shanxi and Xu Wei in Beijing | China Daily | Updated: 2013-09-05 01:56




Police have identified a family member as the key suspect in a shocking case in which the eyes of a 6-year-old boy were gouged out.
However, the boy's parents and neighbors are skeptical of the accusation.
Zhang Huiying, 41, the boy's aunt, was identified by police as the suspect after DNA testing showed the victim's blood was found on her clothes, police in the city of Linfen said late on Tuesday.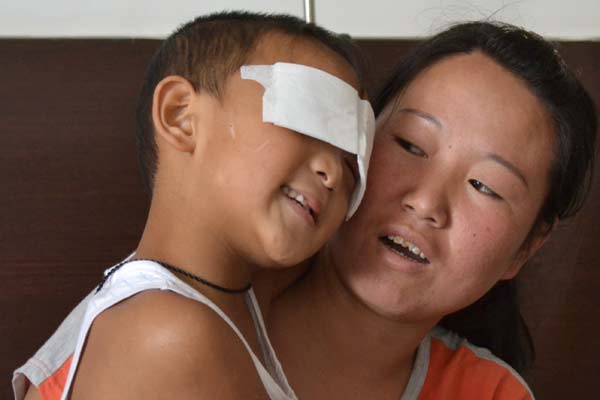 'Thank you': In his mother's arms, 6-year-old Guo Bin, whose eyes were gouged out by a woman last week, thanks a man who donated money to him in a hospital in Taiyuan, Shanxi province, on Tuesday. Police identified the boy's aunt, who has committed suicide, as the suspect, though doubts remain. [Hou Liqiang / China Daily]
The boy, Guo Bin, was lured by an unknown woman into a field near his home in Fenxi county, Linfen, on the evening of Aug 24, and was found later with both eyes missing.
The case shocked the nation for its cruelty, and the boy's question after he was taken to hospital, "Why does the sky remain dark?" touched the hearts of many people.
Police later found the boy's eyes and said they had excluded the possibility of organ trafficking, and put up a reward of 100,000 yuan ($16,300) for clues leading to the capture of the suspect.
Zhang, who worked at a chicken farm, is reported to have committed suicide by jumping into a well in her yard on Friday.
However, the police identification of Zhang as the suspect was a surprise to many, including her neighbors and the boy's father, and they question both the aunt's motive and the boy's failure to identify her as the attacker.
Guo Zhiping, the boy's father, said the police never told him the result of the investigation, and he only found out about it from media reports.
"It came as a shock. I still don't believe it," he said on Wednesday.
He also denied media reports that his family conflicted with his brother's family over providing support to their paralyzed father, saying the two families maintained "OK" relations.
He also insisted the boy would have identified his aunt if she had committed the crime.
As of Wednesday, the police in Linfen were yet to release more details about the case, including Zhang's possible motive.
A 'good wife'
The result of the police investigation also shocked neighbors who knew Zhang well and recalled her as kind and quiet.
Liu Lanzhi, a 58-year-old neighbor, said Zhang was a "very good wife" and very timid.
"I will never believe this was done by her. I don't believe it, 100 percent," she said.
Liu said she never heard of any conflict between the two families and said the aunt even tried a superstitious ritual to bring back the boy's soul after the attack. Some locals believe a person's soul is lost when they are scared by such extreme circumstances.
However, the police investigation and the arrival of reporters terrified her, which Liu said reflected her timid nature.
"She could be scared by just the sound of a cup dropping," she said.
The two families had a very good relationship with each other, according to a neighbor, who lived less than 100 meters away from Zhang Huiying's home, and who is also surnamed Zhang but no relation to her.
"They often took the vegetables they grew to the boy's family. If they harbored any dislike for each other, I don't think that would happen," the 38-year-old man said.
Zhang Huiying was bitten by a snake before she was married and the injury traumatized her, he said. "She was very timid. The sound of thunder could keep her awake all night," the neighbor said.
She even fainted six years ago when hearing that one of Guo Bin's elder sisters died after falling into a well.
Please click here for Chinese version

Editor's picks

Copyright 1995 - . All rights reserved. The content (including but not limited to text, photo, multimedia information, etc) published in this site belongs to China Daily Information Co (CDIC). Without written authorization from CDIC, such content shall not be republished or used in any form. Note: Browsers with 1024*768 or higher resolution are suggested for this site.
Registration Number: 130349