Chinese premier eyes closer ties with ASEAN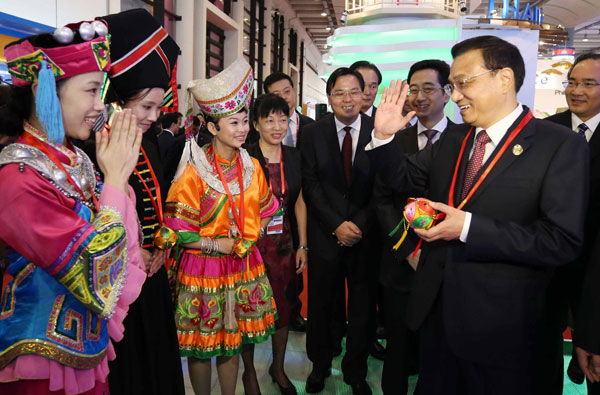 Chinese Premier Li Keqiang visits the exhibition hall of China-ASEAN Expo in Nanning, capital of South China's Guangxi Zhuang autonomous region, Sept 3, 2013. [Photo/Xinhua]
NANNING - Chinese Premier Li Keqiang has urged business people to seize the opportunities in developing the country's inland areas and cooperating with the Association of Southeast Asian Nations (ASEAN).
While visiting the China-ASEAN Expo (CAEXPO) in Nanning, capital of south China's Guangxi Zhuang Autonomous Region, on Tuesday, Li advised Guangxi to take the unique advantage of being seen as a passage linking the inland of China to the ASEAN in the process of building a new Silk Road.
"China and the ASEAN are a big family, sharing an interlinked or similar culture and a common aspiration for development," said the premier. He foresaw broader prospects of cooperation between China and the ASEAN.
In talks with Guangxi officials, the premier recalled that China's opening up and development have extended from coastal areas to the inland and from east to west.
While currently trying to improve the quality of development of the Yangtze River Delta, Pearl River Delta and Bohai Sea Rim, China will also pay particular attention to opening up and developing the inland areas, Li said.
During his stay at the expo, the Chinese premier was showed around in the exhibition halls, where a large number of photos, charts and electronic models showcase the achievements of bilateral cooperation in the past decade.
Visiting platforms set up by Chinese business people, Li told them to follow local laws and traditions in the ASEAN while investing and running businesses in these countries, so as to achieve mutual benefits and a win-win deal. He also visited foreign stands and talked with foreign participants.
This is the 10th year since China sealed a strategic partnership with the ASEAN. The 10th CAEXPO runs from September 3 to Sept 6.

Editor's picks

Copyright 1995 - . All rights reserved. The content (including but not limited to text, photo, multimedia information, etc) published in this site belongs to China Daily Information Co (CDIC). Without written authorization from CDIC, such content shall not be republished or used in any form. Note: Browsers with 1024*768 or higher resolution are suggested for this site.
Registration Number: 130349