Li sees opportunities despite dispute
China and Vietnam should properly handle sea disputes and convert challenges into cooperation opportunities, Premier Li Keqiang told his Vietnamese counterpart on Monday.
Li made the remarks in Nanning, the Guangxi Zhuang autonomous region, on Monday, a day before the opening of the 10th ASEAN-China Expo.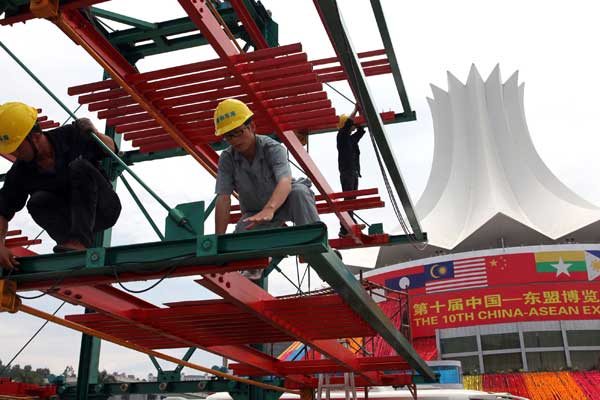 Workers add the final touches for the 10th China-ASEAN Expo on Monday, a day before the opening of the annual event, in Nanning, the Guangxi Zhuang autonomous region. [Huo Yan / China Daily]
China is willing to work with ASEAN to build an "upgraded version" of the China-ASEAN free trade area, he said.
Leaders attending the expo will include Cambodian Prime Minister Hun Sen, Laos' Prime Minister Thongsing Thammavong, Vietnamese Prime Minister Nguyen Tan Dung, Myanmar President Thein Sein, Thai Prime Minister Yingluck Shinawatra and Singapore's Deputy Prime Minister Teo Chee Hean.
China and ASEAN should "maintain the right direction of East Asia cooperation" against the backdrop of a slow recovery of the world economy and of new challenges facing emerging market countries, Li said when meeting his counterparts on Monday.
In recent years, the Philippines and Vietnam have tried to put the South China Sea issue onto the agenda of a series of ASEAN meetings to attract global attention on their claims over some islets.
China and Vietnam are both developing economies and "their common interests far outnumber the divergence between them", Li told Nguyen Tan Dung.
"The two sides should boost dialogue and communication, properly manage and control disputes, seek to convert challenges on maritime issues into opportunities for cooperation, and create favorable circumstances for bilateral cooperation on major projects," Li said.
Diplomatic communications have been maintained between China and Vietnam over the South China Sea issue, and the Chinese premier is sending a signal that the maritime issues "are not expected to ruin the big picture of regional cooperation", said Yang Baoyun, an expert on Southeast Asian studies at Peking University.
"It is a wiser choice for Vietnam to expand cooperation with China rather than making trouble at a time when its domestic economy is also facing challenges," Yang said.
Nguyen Tan Dung echoed Li's proposal for properly handling maritime issues, and he said Hanoi has always placed the highest diplomatic priority on the relationship with Beijing.
Ruan Zongze, vice-president of the China Institute of International Studies, said one of the recipes for converting maritime challenges into opportunities is the better use of the China-ASEAN Maritime Cooperation Fund.
"China provided 3 billion yuan ($490 million) for the fund, and there is great room to boost the efficiency of utilizing the fund for cooperation, including search and rescue," Ruan said.
China and ASEAN established a strategic partnership in 2003, and the two announced the start of a free trade area in 2010. Li said the relationship has become "a role model" of neighborly friendship and cooperation.
ASEAN has gradually realized that its meetings are not intended for bickering about maritime disputes, and relevant disputes in the South China Sea should only be discussed "within the scope of bilateral reconciliation" between contending parties, said Qi Jianguo, former Chinese ambassador to Vietnam.
By the end of June, China's direct investment in ASEAN totaled nearly $30 billion, and direct investment from ASEAN into China exceeded $80 billion.
China was the largest trade partner for ASEAN, and the region was the third-largest trade partner for China. China-ASEAN trade topped $210 billion in the first half, growing 12.2 percent year-on-year.
Beijing vows to achieve an updated version of the China-ASEAN free trade area and establish a platform for Asian infrastructure investment and funding, Li said.
Boosting "connectivity" in the region became a catchphrase during the Chinese premier's meeting with his counterparts on Monday.
"To explore a better performance of the free trade zone, road construction projects are expected to be implemented to facilitate the logistics sector and business travel, and better information connectivity is also on the agenda," Yang said.