Education and sci-tech can boost economy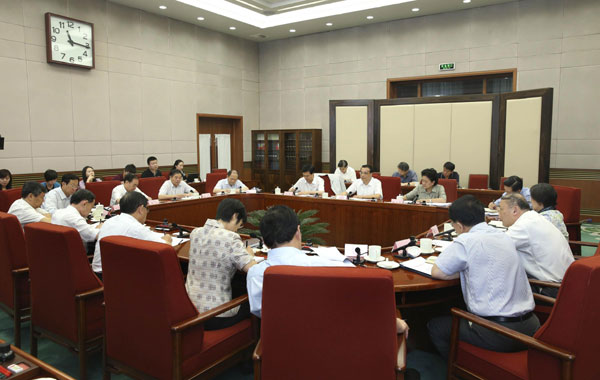 Premier Li Keqiang, rear center, who is also a member of the Standing Committee of the Political Bureau of the Communist Party of China Central Committee, presides over the first plenary meeting of China's leading group on education and science and technology, in Beijing, Aug 31, 2013. [Photo/Xinhua]
Li also pointed out China should infuse its economy with science and technology in innovation- and job-driven efforts to translate science and technology into productivity.
"We should examine global science and technology trends and identify what China really needs for its industrial transformation and upgrade," he said.
"We should bring enterprises' potential into full play and inspire researchers' innovation capabilities, turning innovative efforts into real economic and social benefits."
Li also emphasized reforms in promoting equal education access and blending science, technology and the economy.
At the 18th National Congress of the Communist Party of China late last year, the government launched an innovation-driven strategy, identifying innovation's strategic position in the national development blueprint.
Science and Technology Minister Wan Gang said the country will better blend science, technology and the economy.
China's social R&D expenditures have grown more than 20 percent annually in recent years, reaching 1 trillion yuan. The country has more R&D experts than any other at 3.2 million.
Contact the writers at dingqingfen@chinadaily.com.cn and chengyingqi@chinadaily.com.cn.
Related stories:
Li calls for education equality, scientific innovation
Education reform should be fair and thoughtful

Editor's picks

Copyright 1995 - . All rights reserved. The content (including but not limited to text, photo, multimedia information, etc) published in this site belongs to China Daily Information Co (CDIC). Without written authorization from CDIC, such content shall not be republished or used in any form. Note: Browsers with 1024*768 or higher resolution are suggested for this site.
Registration Number: 130349