Couple dedicate lives to development of education in county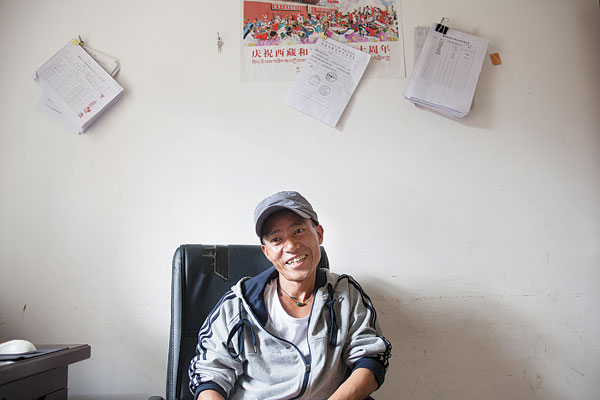 Pasang says he never regrets staying in Medog and dedicating himself to its educational development.
Attending the county's largest primary school in the 1980s, Pasang remembers, there was only a wooden threshold, not even a front gate. Desks and chairs were few; most of the students sat on stones, he says.
Pasang was occasionally given some money by his parents, but without any shops around the school, money seemed like waste paper for him.
Except for a textbook, local teachers had no tools for their task. The students had to rely on memorizing to learn language.
"Our teachers didn't graduate from primary school themselves," says Pasang. "Most of the classes were boring."
With opportunities to study outside later, however, Pasang discovered things could be different. Now 33 and a teachers' college graduate, he has returned to his hometown as one of 32 primary-school teachers at the Medog Primary School, which he describes as realizing a dream.
The school was established in 1972. Before 1985, it had only classes under grade three due to a shortage of teachers. Older students had to continue schooling in faraway Bayi or Pai towns. Many children simply dropped out.
Pasang was sent outside Medog for schooling when he was 8. The school was four days' walk away; he boarded at school and returned home once a year.
Later, he went to study at a middle school in Xianyang, Shaanxi province. He was fascinated by a teacher who had rich knowledge and presented very lively classes - and later became his friend.
"He was an idol for me," recalls Pasang. "I was thinking then that if only Medog can have a teacher as good as him!"
Since then, he has dedicated himself to the development of education in Medog. Pasang has given up several chances to go to better places or schools in the past years, with no regrets.
Related:
New road a changing path to prosperity