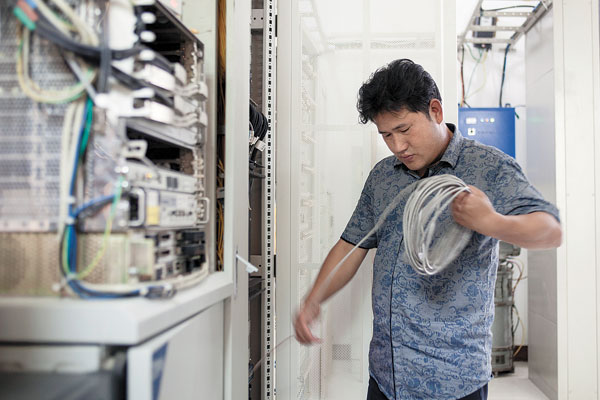 Zondrui is giving the telecommunication system a thorough overhaul. The cable services have greatly benefited Medog's people. Photos by Kuang Linhua / China Daily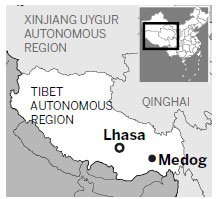 A Tibetan county has come out of its long seclusion thanks to new mail and telecommunications networks. Liu Xiangrui, Wang Huazhong and Daqiong report from the Tibet autonomous region.
Editor's note: Medog county in the Tibet autonomous region is the last in China to be connected to the outside world by a paved road. Early last month, four reporters from China Daily took eight hours to drive along the 117-km Zhamog-Medog motorway, which starts high in the frigid mountains at an elevation of more than 4,300 meters. They found the road had helped reshape lives of local people, opening their minds and putting them on a fast track to development. The reporters now tell the stories of the people they interviewed during their one-week stay in the once isolated and desolate county.
Besides the new road that connects the villages of Medog to the outside world physically, developing means of communication, which bridge the two in a more subtle way, has been equally important for the lives of local people.
Growing up in Medog and dedicating himself to postal and telecommunication work for years, Zondrui, 40, is director of the county's telecommunication office.
Secluded in the mountains, Medog's education system has lagged behind the rest of China for years. Zondrui left home to study at a primary school in nearby Milin county. He attended a postal vocational school in Chengdu, Sichuan province.
For eight years after middle school, Zondrui went back home just once. He sent back only three telegraph messages because it was expensive, and the contents were almost the same.
"I only told them that 'I am good and please don't worry'," Zondrui recounts.
And his families sent him only a telegraph message. "It said: 'How have you been recently? We're concerned about you.'
"I was concerned about them, too. But I had no choice. Even a phone call was impossible then."
Related:
Electricity: a curiosity no longer
New road a changing path to prosperity