19 killed in N China rainstorms
BEIJING - Rainstorms and ensuing floods have left 19 people dead in North China's Inner Mongolia autonomous region, the Ministry of Civil Affairs said on Friday.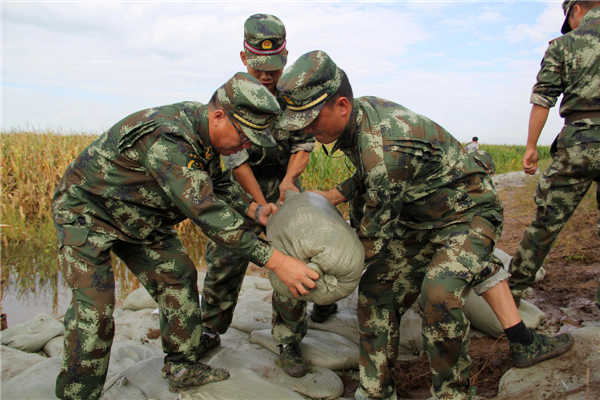 Police load sandbags to strengthen a dyke, which has cracks and water seeping out, threatening two villages and about 4,000 hectres of farmlands in the lower reach of Nenjiang River in Hinggan League, North China's Inner Mongolia autonomous region on Aug 21. [Photo/Xinhua]
About 790,000 people in the region have been affected and 116,000 have been evacuated from flooded areas, the ministry said in a report.
About 51,000 houses have collapsed or suffered damage and direct economic losses total around 2.2 billion yuan (about $359.24 million), according to the ministry.
The National Disaster Reduction Commission and the Ministry of Civil Affairs issued an emergency response on Friday morning and dispatched a work group to the disaster zone to help relief efforts.
The local government has allocated 200 tents, 300 folding beds and 2,500 cotton blankets to the affected areas.

Editor's picks

Copyright 1995 - . All rights reserved. The content (including but not limited to text, photo, multimedia information, etc) published in this site belongs to China Daily Information Co (CDIC). Without written authorization from CDIC, such content shall not be republished or used in any form. Note: Browsers with 1024*768 or higher resolution are suggested for this site.
Registration Number: 130349