Health chiefs sacked over baby-for-sale scandal
The director and deputy director of the health bureau in Fuping county, Northwest China's Shaanxi province, have been removed from their posts over the local baby-for-sale scandal, along with another three health officials, West China City Daily reported Thursday.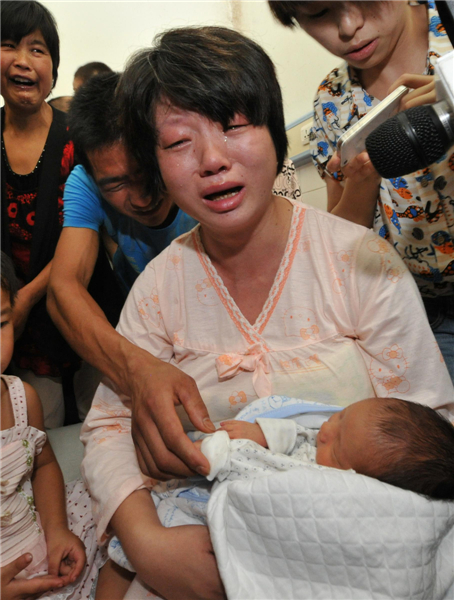 Mother Dong Shanshan cries after being reunited with her baby boy who was abducted from hospital. [Photo/Xinhua]
The chief and deputy chief officer of the Fuping County Maternal and Child Health Care Hospital, whose doctors were allegedly involved in trafficking newborn babies were also removed, as well as the chairman of the labor union in charge of nursing at the hospital.
The hospital's involvement in trafficking newborns was exposed recently when a couple became suspicious and reported one of its gynecologist called Zhang Shuxia to the police on July 20.
The couple alleged that Zhang, deputy director of the hospital's maternity department, took their newborn baby boy away after she claimed the kid suffered from syphilis and hepatitis B transmitted from the mother and would not survive.
The couple was suspicious as the mother was free of both diseases, and several prenatal checkups during her pregnancy showed she and her fetuses were normal.
Zhang, deputy director of the hospital's maternity department, has been detained on suspicion of human trafficking.
The hospital's involvement in children trafficking is still being investigated as the county police confirmed on Wednesday that the parents of 10 children delivered at Fuping Maternal and Child Health Care Hospital have reported their babies were also taken away by Zhang.
Lou Qinjian, provincial governor of Shaanxi, pledged on Thursday a thorough investigation and a strong will to bring those to justice.
Two newborn twin baby girls and a baby boy alleged sold by Zhang to human traffickers have been rescued.

Editor's picks

Copyright 1995 - . All rights reserved. The content (including but not limited to text, photo, multimedia information, etc) published in this site belongs to China Daily Information Co (CDIC). Without written authorization from CDIC, such content shall not be republished or used in any form. Note: Browsers with 1024*768 or higher resolution are suggested for this site.
Registration Number: 130349