Doctor suspected of child trafficking
Police have questioned an obstetrician-gynecologist and two other people suspected of human trafficking in Fuping county, Shaanxi province, and detained the two other suspects.
Experts said it is unusual for a doctor to be involved in such a case and suggested parents should not believe strange advice from a single doctor.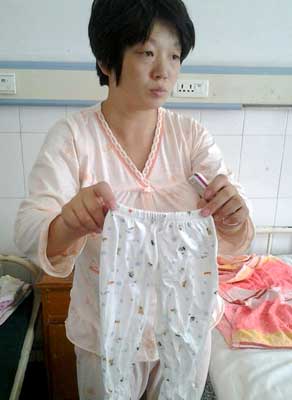 A woman, surnamed Dong, shows clothing originally prepared for her baby son on July 24, eight days after he was kidnapped. JIA FAN / FOR CHINA DAILY
"As far as I know, it's rare to see doctors involved in child trafficking cases," said Dai Peng, director of the criminal investigation department of the People's Public Security University of China.
"Since people always believe in the moral quality of doctors, it's easy for doctors to abduct a baby successfully."
On July 15, a woman surnamed Dong went to Fuping Maternal & Child Healthcare Hospital in labor and was advised by a doctor surnamed Zhang, who is deputy director of obstetrics of the hospital, to have a blood test.
In the afternoon of July 16, the doctor told Dong the test showed she had syphilis and that her unborn child might carry the virus, according to Lai, Dong's husband.
The doctor persuaded the woman and her family to give up the baby and to sign a document to that effect. The woman and her family questioned the result as she had received physical checkups several times in the hospital since she became pregnant, and the results of the last test on July 10 were normal.
That night, Dong gave birth to a 2.8 kg baby boy and recalled hearing him crying loudly.
Lai said that after Dong was taken back to her ward, he and other family members asked to see the baby, but were told he was seriously ill and had been taken away.
On July 17, Dong, her husband and their daughter went to another hospital in the county for further tests, and the result showed all three were in good health.
Two days later, Dong and her family went to the hospital looking for the baby, and were offered a payment of 20,000 yuan ($3,262), which they refused.
The family then reported the case to the police.
"The parents reported the case clearly, so it should be easy for the police to ascertain the suspects," Dai said. "But the police still have to track down the facts by following the clues to make it clear."
Police sources said the case was under investigation and Zhang, the doctor, has been questioned by police for further investigation, and the other two suspects were detained on allegations of child trafficking.
After learning of the case, seven more local women reported that they had given birth in the same hospital and the doctor encouraged them to give up their babies, saying they were seriously sick.
Police confirmed they were investigating the doctor and the other two suspects for suspected involvement in cross-province child trafficking.
Last year, police nationwide handled 1,868 cases of child trafficking and 4,760 cases of human trafficking.
About 1,240 human trafficking rings were smashed and 17,871 suspects detained, and police rescued 14,971 trafficked children and 9,156 abducted women.
In April 2012, a similar case was uncovered by police in Xingtai, Hebei province, in which a child trafficking ring obtained children through a private gynecological clinic in Pingxiang county.

Editor's picks

Copyright 1995 - . All rights reserved. The content (including but not limited to text, photo, multimedia information, etc) published in this site belongs to China Daily Information Co (CDIC). Without written authorization from CDIC, such content shall not be republished or used in any form. Note: Browsers with 1024*768 or higher resolution are suggested for this site.
Registration Number: 130349