Mass murder suspect captured in central China
ZHENGZHOU - Police said Saturday they have captured a man who allegedly stabbed five people to death and injured three others on Thursday in Central China's Henan province.
The suspect, Ding Jinhua, was captured in Yuzhou city, Henan, at around 2 pm Saturday, police said, adding he is being interrogated.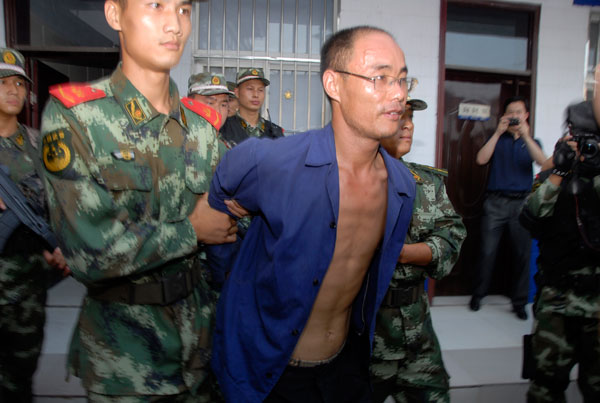 Suspected murderer Ding Jinhua is captured in Yuchou city, Henan province, July 27, 2013. [Photo/Asianewsphoto]
Ding, 38, who runs a furniture shop in Luohe city, Henan, is alleged to have gone on a rampage with a knife after a minor local dispute. At noon on Thursday, he allegedly stabbed three people to death and injured two others in his home village of Dazhuzhuang, in Xiping county.
He is then suspected to have driven back to the furniture market and killed a female shop owner, before murdering a taxi driver outside the market and driving away the taxi. Police say that Ding hijacked a second taxi later after injuring the driver with a knife.
He fled after the incidents. Police offered rewards for clues leading to his capture.

Editor's picks

Copyright 1995 - . All rights reserved. The content (including but not limited to text, photo, multimedia information, etc) published in this site belongs to China Daily Information Co (CDIC). Without written authorization from CDIC, such content shall not be republished or used in any form. Note: Browsers with 1024*768 or higher resolution are suggested for this site.
Registration Number: 130349