6.6-magnitude quake hits NW China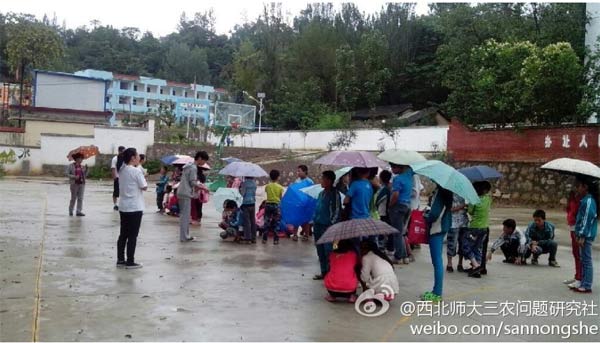 Photo uploaded to Sina Weibo shows students gathering outdoors in Chengxian county, Gansu province after the quake.  
8:45
A squad of 100 armed police is sent for rescue to Minxian county from Dingxi city.
8:40
Communication is cut off in Minxian and Zhangxian counties.
8:35
Taihe village in Dingxi city was badly damaged in the quake, with almost all houses collapsed, according to Gansu Daily.
An earthquake preminilary measuring 6.6 magnitude on the Richter scale jolted an area bordering Minxian and Zhangxian counties, Dingxi city, Northwest China's Gansu province at 07:45 am, July 22, according to the China Earthquake Networks Center.
The epicenter, with a depth of 20 km, was monitored at 34.521 degrees north latitude and 104.23 degrees east longitude, said the center.
Four aftershocks measuring 3.0 to 3.9 magnitude on the Richter scale hit the region in 30 minutes.
No report on loss and casualty has been released.
The earthquake can be felt in Xi'an, Shaanxi province. A video clip uploaded to Sina shows water waving in a fish tank during the earthquake in Xi'an.

Editor's picks

Copyright 1995 - . All rights reserved. The content (including but not limited to text, photo, multimedia information, etc) published in this site belongs to China Daily Information Co (CDIC). Without written authorization from CDIC, such content shall not be republished or used in any form. Note: Browsers with 1024*768 or higher resolution are suggested for this site.
Registration Number: 130349