22 Indonesians killed in Aceh quake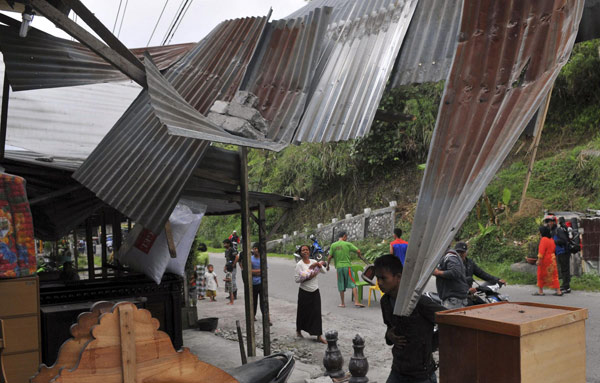 Residents stay outside their damaged house after it was hit by a strong earthquake in Bener Meriah district in Central Aceh July 2, 2013.[Photo/Agencies]
JAKARTA - Powerful and shallow quake in Aceh of Indonesia on Tuesday has killed 22 people, injured 218 others and damaged thousands of houses, official said here on Wednesday.
Most of the casualty were found in Benermeriah district, about 1,500 houses, government office buildings and mosques were damaged by the quake measuring 6.2 on the Richter scale, Sutopo Purwo Nugroho, spokesman of national disaster management agency told Xinhua by phone on Wednesday.
Most of the wounded people were in Aceh Tengah district, he said, adding all of the injured persons in Aceh province were being treated in hospitals.
Several spots of roads were cut which hampered transport in the province in northern tip of Sumatra island, Indonesia, said Sutopo.
The disaster made people take shelters in several places, he said, but did not elaborate further.
Assessment of the risk of the quake was continuing, particularly in Benermeriah district, he said.
The government has sent one helicopter and one plane to help with the emergency relief work, said Sutopo.
Police, soldiers and volunteers have came to the affected areas to give aids, he said.