Severe floods expected in coming month
China is expected to face serious flood control challenges in the next 30 days as it heads into flood season.
The State Flood Control and Drought Relief Headquarters said on Wednesday that this year's flood season will run from about July 15 to Aug 15.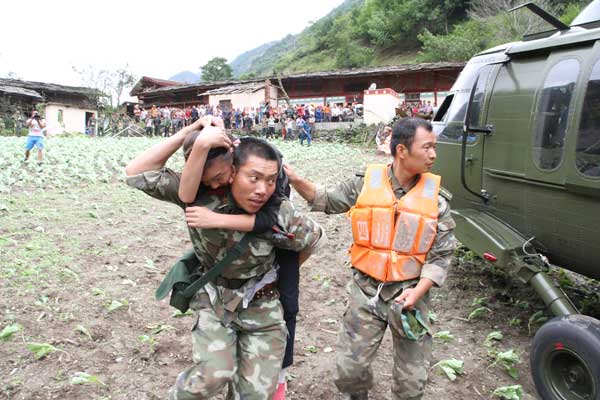 A soldier carries an injured child to a helicopter in Wenchuan, Sichuan province, on Tuesday. The People's Liberation Army Chengdu Military Area Command has dispatched three helicopters with 19 relief workers and 7.5 metric tons of supplies to Caopo, Wenchuan county, which suffered severe downpours and landslides. Wu Tailiang / Xinhua
Heavy rainfall is expected in northern and southwestern China, causing severe flooding in many major rivers, such as the upper reaches of the Yangtze, Haihe, Yellow, Songhua and Liaohe rivers.
According to the National Meteorological Center, Gansu, Shaanxi, Sichuan, Henan and Guangdong provinces will see 24-hour rainfall with some areas receiving 100 to 200 mm of rain.
Sichuan will be in the height of its rainy season over the next few months, possibly bringing more chaos to the already battered province.
"Since most of the same parts of Sichuan province will be hit again with heavy rainfall, severe floods, flash floods and mudslides are likely," said Liu Zhiyu, a Ministry of Water Resources official.
Last week, rain-triggered floods and a severe landslide left 58 people dead and another 175 missing in the province, according to the flood control headquarters.
Due to global climate changes, other regions in the world, such as India, have also been battered by heavy rainfall in recent weeks, he said.
Meanwhile, Tropical Storm Cimaron, the eighth of the year, is expected to make landfall on Friday in Southeast China, just after Tropical Storm Soulik hit Fujian province on Saturday and Jiangxi province on Sunday, the headquarters said.
"We expect to see more tropical storms this year," said Shu Qingpeng, press secretary of the headquarters. "They are likely to sweep far inland and cause severe damage to the coastal regions."
So far this year, heavy rain and flooding have killed 337 people and left another 213 missing in 30 provinces, autonomous regions and municipalities. A total of 47.7 million people have been affected, according to the headquarters.
More than half of the victims were in Sichuan province, and nearly 60 percent were killed by landslides, Shu said.
Authorities urged local governments, especially those in northern China, to improve flood-control facilities and sewage networks.
"There hasn't been a severe flood in the Haihe River since 1996 or in the Songhua River since 1998. Consequently, many cities in North China don't have much experience in flood control," Shu said.
Government authorities should also help residents improve their awareness of emergency procedures during natural disasters, he said.

Editor's picks

Copyright 1995 - . All rights reserved. The content (including but not limited to text, photo, multimedia information, etc) published in this site belongs to China Daily Information Co (CDIC). Without written authorization from CDIC, such content shall not be republished or used in any form. Note: Browsers with 1024*768 or higher resolution are suggested for this site.
Registration Number: 130349