Sichuan floods wreaking havoc on crops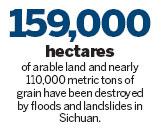 More than 110,000 metric tons of grain and almost 159,000 hectares of arable land have been destroyed by storm-triggered floods and landslides in Sichuan province.
"Ongoing rainfall has destroyed 99,333 hectares of arable land producing grain and 59,800 hectares of arable land producing cash crops. Total (agricultural) economic losses have surpassed 1.1 billion yuan ($180 million)," said Yang Wen, an information officer with the Sichuan provincial department of agriculture, on Tuesday.
Since late June, rainstorms have lashed the western, central and northern parts of the province, with the most severe storm occurring on July 7. Storms are expected to continue through this week.

Today's Top News
Editor's picks
Most Viewed