Setting Mao in stone
Jiang Jiwei carved some cups out of the rock in front of the revolutionary heroes' relief portraits. Each morning after getting up, he rushed to fill the cups with water and bowed in front of each statue three times before starting his day's work, as though the great ones would be angry with him if he did not go through the ritual quickly.
Jiang Jiwei welcomed young people to see his works and he hoped they could learn from Mao's thoughts. He demanded that all visitors write their names and feelings in his notebook.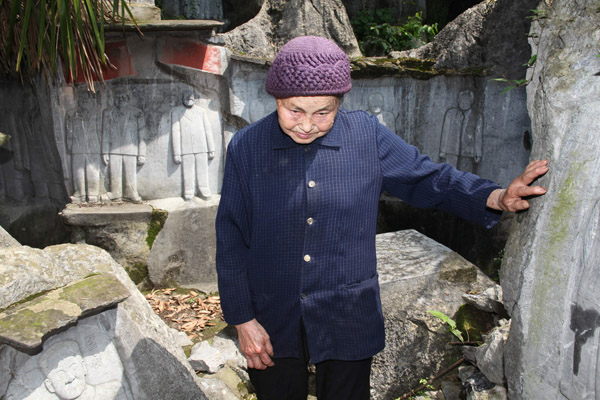 Liu Xiaoying, Jiang Jiwei's wife, introduces her husband's works at the foot of Yulu Hill in Zhutang village.
In an interview with local newspapers, Jiang Jiwei confessed: "The people I carved are great for their bravery, brightness, loyalty, honesty and integrity. Although I was abused before, I love Chairman Mao from the bottom of my heart."
He only left the village twice after 1970. Once was to buy spectacles in 1990. He marveled at the big changes of times when he reached the county. The other time was to buy a shirt in 2001, when he was invited to give a TV interview.
Jiang Yanjiao, a former town head accompanying him then, says: "He always murmured to me that the Party's cadres are not as atrocious as before."
He felt his hard work paid off when he saw people become emotional when they came to see his carvings, Jiang Yanjiao adds. "He always told me Mao is a great man and his quotations are also useful for today's people."
Jiang Jiwei was buried on the hill after he was found dead in his bed, accompanied by Mao's statue.
One visitor wrote in Jiang Jiwei's notebook: "The world mocks his insanity. He derides the world's stupidity in return."

Editor's picks

Copyright 1995 - . All rights reserved. The content (including but not limited to text, photo, multimedia information, etc) published in this site belongs to China Daily Information Co (CDIC). Without written authorization from CDIC, such content shall not be republished or used in any form. Note: Browsers with 1024*768 or higher resolution are suggested for this site.
Registration Number: 130349