Setting Mao in stone
Wang Zichuang, a local reporter from Guilin who interviewed Jiang many times, says, Jiang believed in communism and applied to join local pro-Communist guerrilla forces during the civil war (1946-49). He was refused because he did not have a gun.
An anonymous female villager and neighbor of Jiang says he was wrongly classified as "rich farmer" in the "cultural revolution" just because he lent a kilogram of grain to his poor neighbors in the early 1960s.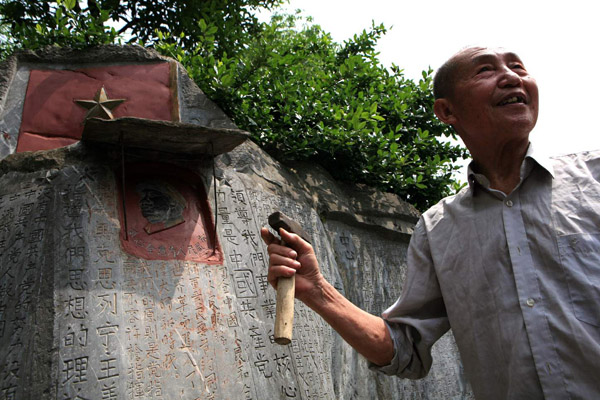 Jiang Jiwei shows his works featuring Chairman Mao's quotations at Yulu Hill, in 2008, in Zhutang village of Quanzhou county, Guangxi Zhuang autonomous region.Photos by Huo Yan / China Daily
Jiang refused to accept the title, which meant he would become an "enemy of the people". But the Red Guards intimidated him: If he did not follow orders, his title would be upgraded to "landlord", a criminal title that could lead to a death sentence at that time.
"Ten landlords were executed by shooting and he was forced to see the execution at a close distance and ordered to carry and bury the bodies," Jiang Caizheng says. "The killing scared him out of his wits and he became another person ever since. He did not talk about anything else, except Chairman Mao's quotations, from then on."
His wife was molested by a village head, the last straw that broke his nerve. He tried to kill himself many times with carpentry tools in 1970. One day, he gave up the suicide plan and quietly became a vegetarian and a Christian, Jiang Caizheng adds.
A Christian cross made by himself was hung in the wall of his "cell", which could only hold two single beds. On the muddy ground were piles of his old chisels and hammers; he refused to use modern electronic tools to carve the rock.
He carved portraits of Mao Zedong, Deng Xiaoping, Karl Marx and Zhou Enlai, and memorialized Mao's quotations. He could recite almost all quotations of Mao accurately, with emotion.
"Nobody taught him how to carve and he could only carve five Chinese characters per day at first. He seemed to forget the world when he took up the chisel," Liu Xiaoying says. "Our two sons and one daughter put one bowl of rice noodles with pickled peppers and a glass of liquor in front of his door each day. That's all he had every day from 1970 to his last few days."
Jiang Caihui, Jiang Jiwei's younger son, says: "My father was very stubborn and never went to see a doctor when he felt ill. He thought he could survive all diseases and have a long life by reciting Mao's quotations and paying loyal tribute to Mao."

Editor's picks

Copyright 1995 - . All rights reserved. The content (including but not limited to text, photo, multimedia information, etc) published in this site belongs to China Daily Information Co (CDIC). Without written authorization from CDIC, such content shall not be republished or used in any form. Note: Browsers with 1024*768 or higher resolution are suggested for this site.
Registration Number: 130349