No quick end in sight for Beijing smog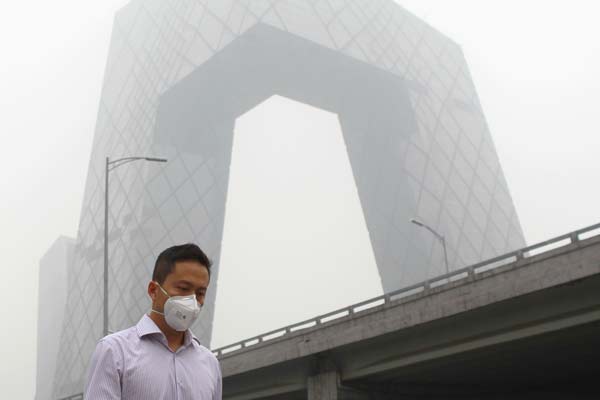 The China Central Television building in Beijing is cloaked in heavy smog on Monday. Cui Meng / China Daily 
The filthy air clogging the skies over Beijing is not expected to clear anytime soon, according to forecasters.
A strong wind would do the trick, but no cold air movement is expected in the coming week, they say.
Since late June, murky brown air has been blanketing the capital, with the city's air pollution index reaching 244 on Monday afternoon, marking another heavily polluted day, according to the Beijing Municipal Environmental Monitoring Center.
"With no cold air movement, the stable atmosphere and high humidity level may worsen the haze across Beijing," Sun Jisong, chief weather forecaster at the Beijing Meteorological Bureau, told China Daily on Monday.
He said rain might clean the air for a short period, but the haze will not clear unless a strong wind blows.
Haze usually occurs in winter in Beijing, but as pollutants are increasing in the air, smoggy summers may become more frequent, Sun said.
The early summer haze has led to an increase in people in hospitals complaining of respiratory ailments.
Zhang Shunan, deputy director of the department of traditional Chinese medicine and lung disease at Beijing Hospital, said the number of patients visiting the department has increased by up to 20 percent in the past few days compared with the same time in previous years.
"But summer should be a season when there are fewer people with respiratory symptoms," he said.
When there is heavy pollution, experts suggest that people avoid outdoor activities and even refrain from exercising in gymnasiums.
Ma Jun, director of the Institute of Public and Environmental Affairs, said excessive emissions of pollutants are partially responsible for the frequent haze in the capital.
Wang Yaqiang, deputy director of the atmospheric composition institute at the Chinese Academy of Meteorological Sciences, previously told China Daily that only when pollutants are reduced will the number of smoggy days fall.