Narcotics blaze highlights anti-drugs day in Tibet
Policemen set a large quantity of drugs alight in Lhasa, capital of the Tibet autonomous region, to mark International Day against Drug Abuse and Illicit Trafficking.
Around 1,000 kilograms of drugs were incinerated. The drugs were confiscated over the past three years in Tibet, according to the Tibet Anti-drug Committee.
Li Zhao, director of the Tibet Public Security Bureau said, in the first half of this year, drug-related cases increased by 100 percent and the number of captured drug traffickers increased by 80.4 percent.
The number of drug addicts rose by 91.3 percent.
"The drug scourge is becoming more serious with each passing day, and the situation is grim for the anti-drug struggle in Tibet".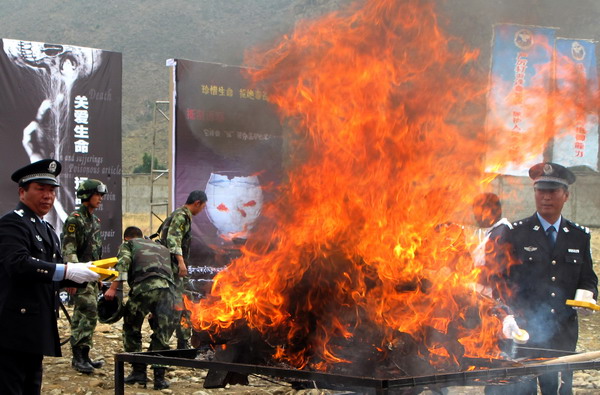 Policemen set drugs ablaze in Lhasa, capital of the Tibet autonomous region, on Wednesday, the International Day against Drug Abuse and Illicit Trafficking. [Photo/Palden Nyima]