New light cast on ancient temple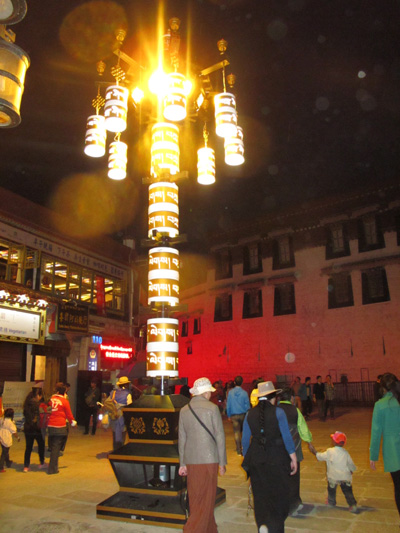 The Jokhang Temple square was freshened up under 10 newly installed Tibetan featured street lamps on Thursday night. [Photo/Palden Nyima/chinadaily.com.cn] 
The Jokhang Temple Square in Lhasa can be seen in a new light after 10 new Tibetan-featured street lamps were installed on June 20.
The lamps drew the attention of people around, especially as they are designed with Tibetan cultural elements, such as the shapes of the Tibetan eight auspicious symbols, as well as the butter lamp and mini prayer wheel.
"I am pleased to see prayer wheels, butter lamps and Tashidelek – the common spoken salutation of Tibetans - appear on the pattern of lamps," said Droma, a 65-year-old Tibetan woman, who had done two circumambulations around the temple that evening.
"These street lamps make Jokhang Temple Square more attractive, and our life more comfortable".
A project to renovate Lhasa was initiated in March 2012 and 90 percent of the planned work has been completed.
Projects such as the dredging of sewage pipes paving Barkhor Street with stone are done. The refurbishment of electricity and telecommunications cables are more than 80 percent complete, with the entire project due to be finished by the end of June.