Nation's rise a common goal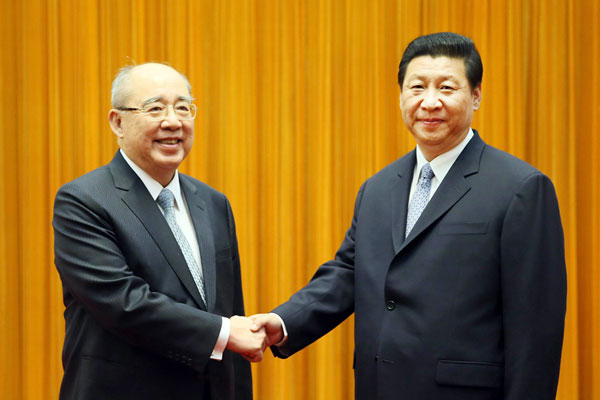 Communist Party of China chief Xi Jinping greets Kuomintang Honorary Chairman Wu Po-hsiung in Beijing on Thursday. Lan Hongguang / Xinhua 
Cross-Straits relations must take overall interests into account: Xi
The mainland and Taiwan should safeguard national territorial integrity and sovereignty, top leader Xi Jinping said on Thursday, as he vowed to enhance trust across the Straits.
While meeting with visiting Kuomintang Honorary Chairman Wu Po-hsiung, Xi said that the two sides should take the overall interests of China into consideration when assessing the situation of cross-Straits ties.
The forces of "Taiwan independence" and their activities remain the biggest challenge to the peaceful development of cross-Straits ties and should be firmly opposed, said Xi, general secretary of the Communist Party of China Central Committee.
Both mainland and Taiwan authorities should recognize historical trends to get a better understanding of future prospects for cross-Straits ties, he said.
"The peaceful development of cross-Straits ties has become an important part of the great rejuvenation of the Chinese nation," Xi said.
He called on the two sides to make the Chinese nation's rejuvenation their common goal.
The mainland and Taiwan should enhance mutual trust, engage in favorable interactions, seek common ground, shelve differences, and be pragmatic and enterprising, Xi said.
Both sides must take more positive measures to enhance overall communication in economic, scientific, cultural and educational sectors, Xi said.
Wu said at the meeting that both sides should oppose "Taiwan independence" and stick to the "1992 Consensus", which calls for both sides to adhere to the one-China principle.
The mainland and Taiwan should cherish the current fruits of cross-Straits relations, and enhance communication in the economy, trade and culture, Wu said.
During the talk, Wu recalled the first time he stepped onto the mainland 13 years ago, when he went to Fujian province to attend the 16th plenary of the World Hakka Conference. Xi was the governor of Fujian province at that time and he met with Wu during the banquet.
"As a 70-year-old man, I have been influenced by cross-Straits ties since I was a teenager," Wu said, adding that he had to hide in tunnels in Kinmen in the early 1950s during artillery fights between the mainland and Taiwan.
"The younger generation might take peace for granted, however we are deeply moved for being able to live in peace," he said.
Taiwan leader Ma Ying-jeou met with the delegation before it kicked off the trip, and Ma also extended his wishes to Xi through the delegation.
The visiting delegation arrived in Beijing on Wednesday and is scheduled to leave for Taiwan on Friday.
Wang Hailiang, a researcher with the Taiwan Studies Center at the Shanghai Academy of Social Sciences, said that the meeting between Xi and Wu has enhanced the two parties' mutual political trust.
The Kuomintang and the CPC are expected to reach more consensus at the annual Cross-Straits Economic, Trade and Culture Forum in August, which will lay the basis for political dialogue between the two sides, Wang said.
Xinhua contributed to this story.