Xi Jinping meets with KMT honorary chairman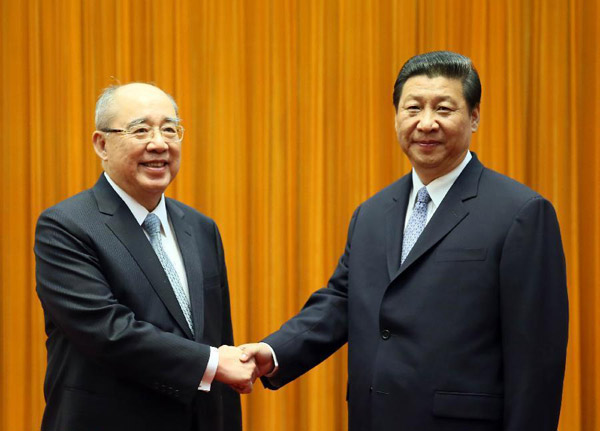 The Communist Party of China (CPC) Central Committee General Secretary Xi Jinping (R) meets with Wu Poh-hsiung, honorary chairman of the Kuomintang (KMT) Party, in Beijing, June 13, 2013.[Photo/Xinhua]
BEIJING -- Xi Jinping, general secretary of the Communist Party of China (CPC) Central Committee, on Thursday called on people from the Chinese mainland and Taiwan to make joint efforts in achieving the great rejuvenation of the Chinese nation.
While meeting with visiting Honorary Chairman of the Kuomintang (KMT) Party Wu Poh-Hsiung, Xi offered four proposals on furthering relations across the Taiwan Strait.
First, the two sides should take the overall interests of the Chinese nation into consideration when assessing the overall situation of cross-Strait ties, he said.
Safeguarding national territorial integrity and sovereignty is at the core of this goal, Xi said, stressing that the two sides should uphold the one-China framework.
Second, the two sides should clearly recognize development trends throughout history in order to get a better understanding of the future prospects for cross-Strait ties, he added.
"The peaceful development of cross-Straits ties has become an important part of the great rejuvenation of the Chinese nation," Xi said.
He called on the two sides to break free from out-dated concepts that do not suit the current situation, "heal the historical trauma," and put the Chinese nation's rejuvenation as their common goal.
In the third point, Xi noted that the mainland and Taiwan should enhance mutual trust, engage in favorable interactions, seek common ground and shelve differences, and be pragmatic and enterprising.
Finally, he said the two sides should steadily promote the overall development of cross-Strait ties.