Wang Yuan appointed UNICEF special advocate for education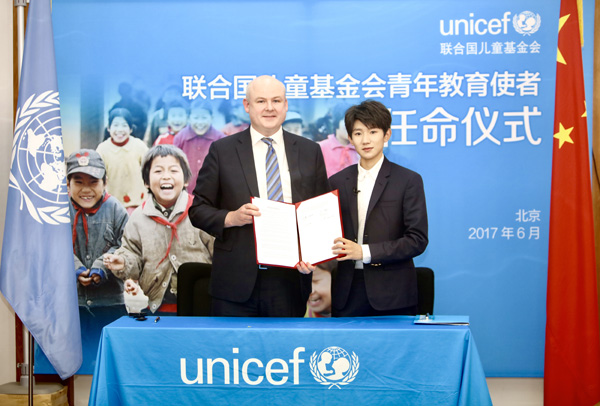 UNICEF China Acting Representative Douglas Noble and Chinese singer and actor Wang Yuan, with the UNICEF Special Advocate for Education appointment letter at UNICEF's Beijing office on June 28, 2017. [Provided to chinadaily.com.cn]


Wang vows to promote high quality education for every child
Chinese singer and actor Wang Yuan has been appointed as a special advocate for education by the United Nations Children's Fund (UNICEF).
"I am very proud to join UNICEF China as a Special Advocate for Education − it's not only an honor but also a responsibility," Wang said.
Wang, who is a member of the pop band TFBOYS in China, said he would actively promote education for all Chinese children.
"Education is a right; we should never allow it to be a privilege. Let's work hard to make education even better in the future," Wang said at the announcement at UNICEF's Beijing office on Wednesday.
UNICEF China Acting Representative Douglas Noble welcomed Wang's appointment.
"We look forward to continued collaboration – with our partners, with all the hard-working teachers and students, in promoting, protecting and fulfilling the rights of all children in China," Noble added.
UNICEF works with the Chinese government to promote and support high quality education for all children. It works with partners to implement the Child Friendly School model in remote and disadvantaged areas of China.
Wang Yuan will visit the UNICEF-supported Child Friendly School project in remote rural communities in China, support awareness-raising programs and appear at key public events.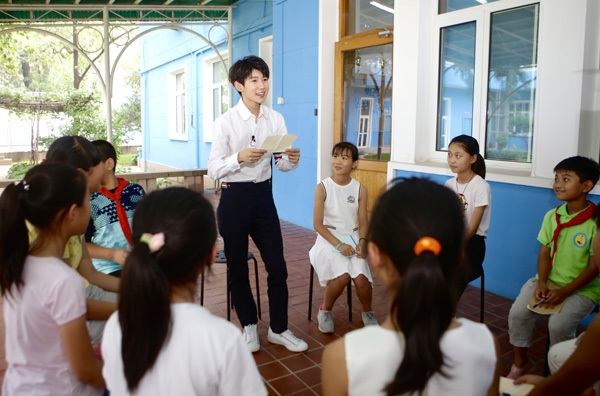 Pop band TFBOYS member Wang Yuan meets Beijing primary school students in one of his first acts as newly-appointed UNICEF Special Advocate for Education, June 28, 2017. [Provided to chinadaily.com.cn]