Four dead, two missing in S. China downpour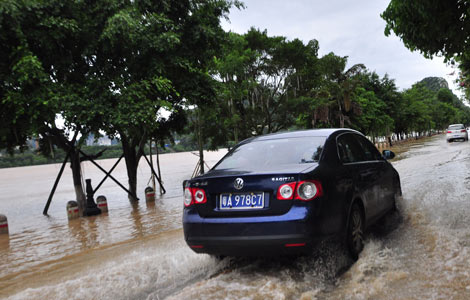 A car battles through a flooded street after heavy rain in Liuzhou, Guangxi Zhuang autonomous region, June 10, 2013. [Photo by Li Shuhou/Asianewsphoto]
NANNING - Heavy rain since Sunday has killed four people and left two missing in south China's Guangxi Zhuang autonomous region and Hunan province, local authorities said Monday.
A 65-year-old woman from Rongshui Miao Autonomous County in Guangxi was killed in a house collapse due to the downpour, which has forced the evacuation of more than 7,500 people and affected the lives of 110,600 people in 13 counties, according to the regional civil affairs department.
A total of 341 houses collapsed in the rain and 1,630 houses were damaged. More than 3,340 hectares of crops were affected, according to the department.
One person is still missing because of the rain. The economic loss was estimated to be about 57 million yuan (9.25 million U.S. dollars), according to the department.
The downpour has also killed three people and left another one missing in the neighboring Hunan Province, according to the provincial headquarters of flood control and drought relief.
Some 7,390 people were evacuated and the lives of 669,000 people in 168 towns were affected due to the heavy rain in Hunan Province.
The precipitation in Linwu County reached 120 mm within 12 hours on Sunday, causing a landslide and traffic interruption of a provincial highway in the county, according to the headquarters.