Manned sub Jiaolong starts trial mission
JIANGYIN, Jiangsu - China's manned submersible Jiaolong, boarding its support ship Xiangyanghong-9, left a port in Jiangyin, East China's Jiangsu province, on Monday, for its first voyage of experimental application.
During the 103-day mission, the sub will submerge for scientific research in the South China Sea, the northeast Pacific Ocean and the west Pacific.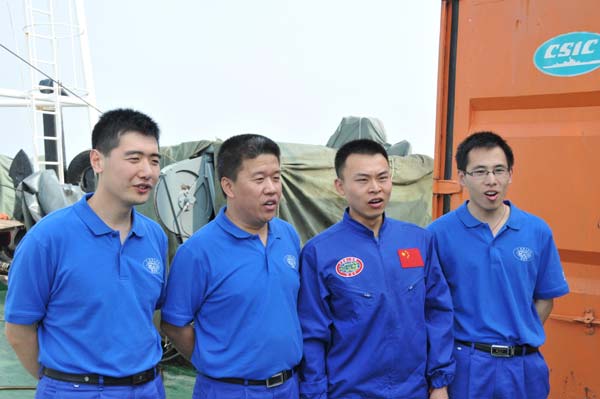 Scientists pose for group photo in front of the support ship Xiangyanghong-9 before manned submersible Jiaolong start for its first voyage of experimental application, in Jiangyin, Jiangsu province, June 10. [Photo/Xinhua]
The submersible will for the first time take scientists on board, and so far 14 scientists have been qualified for diving. Each dive will see two aquanauts and one scientist on board.
The research will focus on poly-metallic sulfides, cobalt-rich crusts, deep-sea genetic resources and a survey of the deep-sea environment.
Jiaolong set a new dive record after reaching 7,062 meters deep in the Pacific Ocean's Mariana Trench in June 2012, demonstrating China's ability to conduct deep-sea scientific research and resource exploration in 99.8 percent of the world's oceans.
However, Jiaolong is not yet ready for regular operation, according to the State Oceanic Administration (SOA).
The 103-day mission will mark the start of a five-year trial period for the Jiaolong before it starts regular operation.