Zone gives rise to science, growth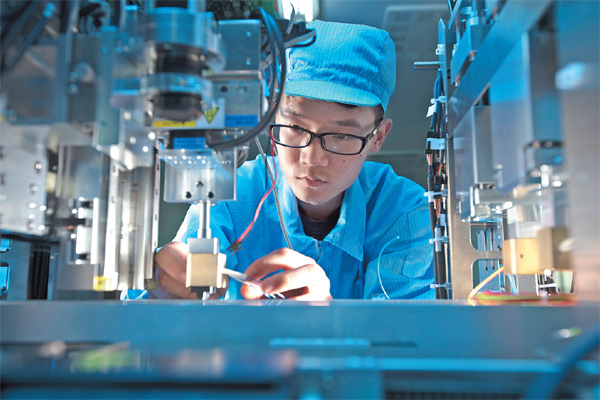 An employee works on the production line at Jiaxing Join Intelligent Equipment Co. Photo/China Daily
Editor's note: In the run-up to the 19th Communist Party of China National Congress, China Daily will report on a number of key projects of national importance that showcase the country's great improvements in crucial fields, such as technology and innovation.
A small county in East China shows that size has no bearing on economic growth
Decades ago, Jiashan county was primarily known for its agriculture and wood industries. It also has a reputation for making quality yellow wine whose sweetness makes it distinctly different from those made elsewhere in China.
However, the county's business landscape was transformed in 1993, when the Jiashan Economic and Technological Development Zone was founded to drive growth. Science and technology have since become the cornerstones of the county's success.
In 2013, Jiashan, in the eastern province of Zhejiang, was singled out as China's only county-level demonstration zone for scientific development, and today its key industries include precision machinery and electronics.
On Sunday, President Xi Jinping said county-level governance is crucial to the modernization of the national system of governance, and Jiashan has taken full advantage of its location and set up a good example for scientific development, according to reports on China Central Television.
Xi visited Jiashan in 2004 and 2005, when he was Party chief of Zhejiang, and he paid another visit in 2008 when he was vice-president.
Developmental pillars
One of the pillars of Jiashan's economic development is automation. According to official data, the county has spent 20 billion yuan ($3 billion) to help 450 companies implement automation initiatives during the past three years, resulting in productivity rising by 12.3 percent.
The high-tech manufacturing sector has also been identified as a major player in the county's development plans.
Jiaxing Join Intelligent Equipment Co is a good example of the sector. Founded in 2009, the company supplies state-of-the-art precision equipment to semiconductor manufacturers around the world.
Strong government support enabled the company to grow from a five-man operation to a 110-person-strong enterprise, according to Chen Yilun, general manager of Join Intelligent's machine vision business unit.