College losing appeal as job market shrinks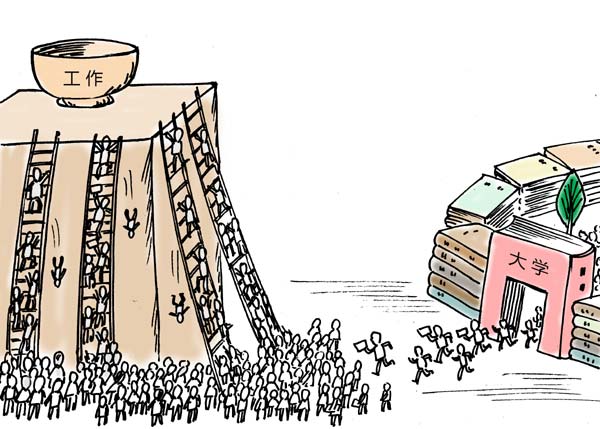 Cartoon by Zhao Guopin/newscartoon.com.cn
HEFEI - Feng Sufei quit school and joined his parents at a garment company in East China's Jiangsu province two months before the national college entrance exam.
Had he not quit, the third-year student at Bei'an High School of Shexian county in Anhui province would have been one of 9.12 million candidates sitting the annual matriculation test that begins on Saturday.
"I have no regrets," said Feng. "My grades are not competitive enough, so I'm not quite confident about the national test."
In taking this decision, Feng joined a growing number of Chinese youngsters eschewing what has become a time-honored career path. This year, exam halls will welcome fewer students than normal for a number of factors, with rising university costs featuring high up the list and proving off-putting to rural students in particular.
Even if Feng was admitted, high tuition fees plus living costs would have amounted to at least 20,000 yuan ($3,262) a year, a heavy burden on his family. At 18, he felt it would be a shame to depend on his parents financially.
His job at the factory production line earns him 2,000 yuan a month. "Not every college grad can easily find a stable job," he said. "Besides, the skills I learn are very practical. In a few years, I may return to my hometown and open a tailor shop of my own."
Dream awakening
Feng's choice would have sounded bizarre a matter of several years ago.
Since China restored the national college entrance testing system in 1977, the matriculation test has been seen as the only chance for rural students to secure a decent job and earn a stable income instead of having to toil in the fields like their parents.
But as the job market in cities becomes extremely tough for new graduates, more and more rural students are weighing the pros and cons of an increasingly expensive college education.
This year, a record 7 million students are leaving nationwide universities and graduate schools to seek their first employment. The number is 190,000, or 3 percent more than last year, but companies are offering 15 percent fewer jobs.