Former S. Korean prosecutor, 75, to get second doctorate in China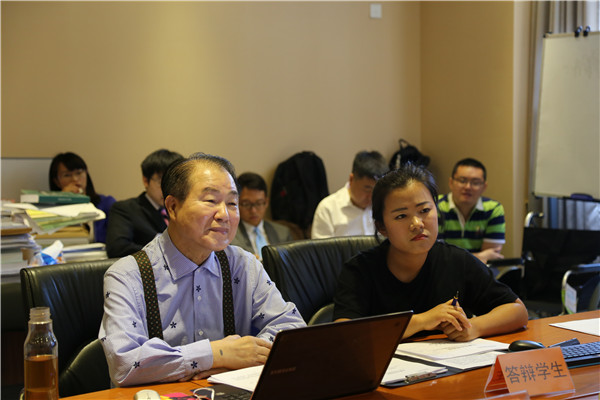 Kim Young-joon at the oral defense of his doctoral dissertation at the University of International Business and Economics, Beijing, June 1, 2017. [Photo provided to chinadaily.com.cn]
Imagine your life in your 70s. Most would think about relaxing in their retirement and spending time with grandchildren. But 75-year-old South Korean Kim Young-joon is about to earn his second doctorate in 10 years in China.
On Thursday, Kim took a step closer to his dreams of higher academic achievement after passing his oral defense of his doctoral dissertation. That means he will gain his second doctorate in law at the University of International Business and Economics by the end of this month.
When hearing the announcement from the board, the formally dressed Kim finally relaxed his nerves. It has been not an easy journey for him, having to undergo three operations in April due to ongoing neck problems.
Kim obtained his first doctorate in China at the age of 70, writing a thesis on how laws in the Tang Dynasty (618-907) influenced Korean laws.
"He is the most diligent overseas student I have ever taught," Huang Yong, a professor in antitrust law and Kim's academic tutor at the University of International Business and Economics, said.
Huang, who is about 20 years younger than his student Kim, said he was initially hesitant to admit such a special student.
"But his strong willingness to do academic research and persistence in contacting me finally got me to approve his request."
Kim's later performance vindicates Huang's decision. Kim sat with all his Chinese classmates in the same classes taught in Chinese, rather than English for overseas students, and attended the same exams. In four years, he completed all units, achieving more than 80 out of 100 for each one. His highest score was 97.
This time, Kim's thesis focuses on copyright law. "He excelled at collecting relevant literature," Huang commented, as the 200,000-word dissertation covers academic research in China, Japan, Korea, the United States, the United Kingdom and Germany.
"I was astonished when he submitted the first draft to me, because it was 800,000 words," Huang said.
During the two years of revisions and three rounds of oral defenses, Kim impressed all with his determination to overcome challenges of age, health and language.
Kim chose to study law in China because he thought highly of China's rising international influence. "I hope my studies can contribute to China's legislation, which to a large extent will influence the world as a whole," Kim said.