Poultry plant fire death toll rises to 120
BEIJING - The death toll from a fire at a poultry factory in Northeast China's Jilin province had risen to 120 as of 8 pm Monday, with another 70 injured, according to the rescue headquarters.
The fire broke out around 6:06 am at a poultry processing workshop owned by the Jilin Baoyuanfeng Poultry Company in Mishazi township in the city of Dehui, about 100 km northeast of the provincial capital Changchun.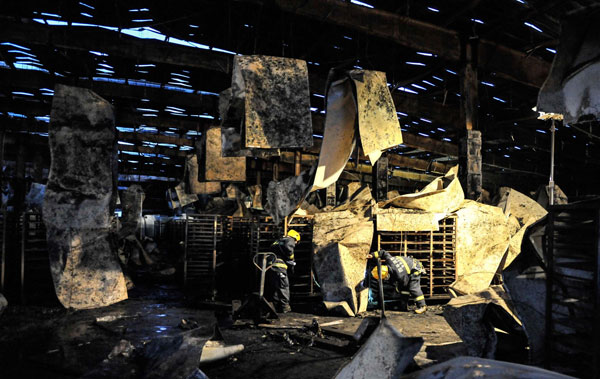 Firefighters search for survivors at the burnt poultry slaughterhouse owned by the Jilin Baoyuanfeng Poultry Company, June 3, 2013. [Photo/Xinhua]
Over 300 workers were in the plant when the fire began, survivors said, adding they heard a sudden bang and then witnessed dark smoke.
About 100 workers managed to escape from the plant, the gate of which was locked when the fire broke out, they added.
Established in September 2009, Jilin Baoyuanfeng Poultry Company has 1,200 employees and an annual output of 67,000 tonnes of chicken products.
A State Council investigation team, led by head of State Administration of Work Safety Yang Dongliang, was set up on Monday to fully probe the cause of the accident.