Canadian brothers' adventure in China
When Canadian brothers Ryan and Colin Pyle each found themselves at a career crossroads, they decided to go traveling and embarked on an ambitious motorcycle ride around China. Mike Peters follows their path.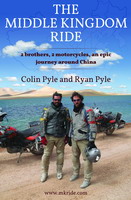 Growing up in Canada, Ryan Pyle probably never thought he was exotic looking.
Fast-forward to summer 2010. Ryan, who has lived in Shanghai for more than a decade, roars into a small community in the Xinjiang Uygur autonomous region on a huge BMW F800GS. His brother Colin is right behind him on an identical monster bike. The two peel off their helmets to reveal two about 1.8-meter white guys with three-week beards. And their license plates were from Shanghai?
Pandemonium!
The brothers came to this remote part of the desert as a "great escape". A year earlier, Ryan, a photojournalist and documentary filmmaker, had been making his annual trip to meet his magazine clients in New York. He found the US publishing industry in disarray, some of his longtime editors laid off and others with slashed budgets. His brother Colin, meanwhile, was a successful currency trader with his own company, but burned-out by long hours and what he felt was a soulless enterprise.
Ryan invited Colin to China to do some traveling, an opportunity for the brothers to reconnect after living on opposite sides of the globe since Colin was a teenager.
As they hunched over a laptop trying to figure out where to go, a grand scheme begun to take shape: a counter-clockwise circumnavigation of the entire Chinese mainland.
"Colin gave a bark of laughter as the route appeared on the screen," his older brother writes in their recent book, The Middle Kingdom Ride. "North from Shanghai to the border with North Korea, then west to the border of Pakistan, down to Tibet, to Hong Kong in the south and finally up the east coast back to Shanghai."
It was 20,000 kilometers, with more than a few impediments.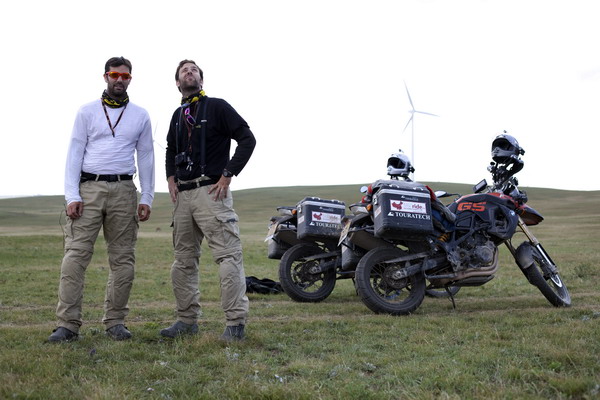 Ryan Pyle (right) and his brother Colin took 65 days and traveled 18,000 km on their motorcycle journey around China. [Photos Provided to China Daily]
It was going to take 60 days if they were lucky. Could two crazy waiguoren on motorcycles - with a two-man video crew driving a van ahead of them - get through militarily sensitive areas?
And what on earth would their wives say?
Despite those challenges, the die was cast. The trip was all about making a TV documentary, and Ryan was optimistic he could get sponsors to cover much of the cost. But selling the concept wasn't easy. They ended up buying their own bikes and proceeding with limited sponsors, who provided rugged all-weather clothing and other gear.
As the two adventurers set out from Ryan's Shanghai home in August 2010, they hit a long traffic jam that kept them between a standstill and a 30-kilometer-per-hour pace. Their fancy riding gear was air-vented to keep them cool traveling 80 kph, but, before long, "I felt as if I was slowly boiling to death inside a damp, uncomfortable, sealed plastic bag," Ryan writes in the book. Colin, a fit sportsman, was pasty-faced with heat stroke by lunchtime, and even now says day 1 was the toughest of the whole trip.
Sixty-five days and 18,000 km later, they had made their grand loop around China. That included extremes like visiting the third-lowest point on Earth and sleeping at the base camp of Qomolangma, also known as Mount Everest in the West.
There were mudslides, suffocating heat and plunging temperatures that turned the moisture in their clothes into ice.
Everything they encountered was new to Colin, and China-veteran Ryan says the best part of the trip for him was riding along as his sibling experienced the country through fresh eyes.
"It's easy for expats to get cynical and tired and look past things that are fascinating," Ryan says. "The trip was a marvelous reminder how lucky I was, how exciting it is to be here."
The trip also re-ignited his passion for exploring China, he adds.
That passion has taken him to the western edges of the country many times since he arrived in China in 2002, and it was a special treat to introduce Colin to one of his favorite cities on Earth: Kashgar, in Xinjiang.
"My first visit there was a game-changer for me," Ryan says. "I'd never had experience with Muslim culture. Suddenly, this sheltered Canadian kid was on the border of Pakistan I was mesmerized."
When the brothers arrived at Kashgar in 2012, it was Ramadan - and the spectacle of thousands of worshippers prostrate on the ground outside Asia's largest mosque blew Colin away.
Since the ride, the brothers have written The Middle Kingdom Ride, set a Guinness World Record for the length of a motorcycle trip inside one country without doubling back, and sold the resulting TV show to an Asian broadcaster, which is airing the sixth and final episode this week. One disappointment: The series is not televised in China ("Or Canada!"), says Ryan, though he's optimistic about getting airtime later this year.
Meanwhile, the brothers have completed an India ride, which was a completely different game. "China was mostly about wide open spaces and grand solitude in many parts," Ryan says. "India was about not hitting kids or cows on the road."
While the brothers are now looking outside the Middle Kingdom for future adventures, Ryan says he's in China to stay. "My wife, and now two kids, are from Shanghai," he says. "And there's lots I still want to do here."
That includes a photography book on his beloved Kashgar and a planned TV documentary series titled Sacred Mountains, which will take Ryan to four of China's storied peaks later this year.
"That's taking me back to my roots as a photographer," he says.
Contact the writer at michaelpeters@chinadaily.com.cn.