India's top diplomat praises co-op with China
Beijing, New Delhi discuss relations days after border standoff resolved
Top diplomats of China and India met in Beijing on Thursday, right after an end to their three-week standoff along a disputed border.
The visit, however, was not under a cloud because of the border incident, as Indian Minister of External Affairs Salman Khurshid is in China's capital preparing for diplomatic arrangements in relations between Beijing and New Delhi this year, observers have said.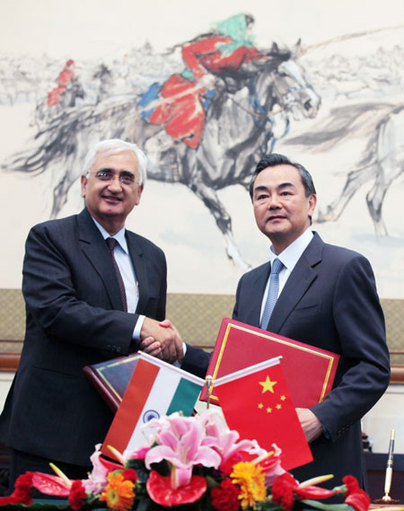 Foreign Minister Wang Yi (right) meets with his Indian counterpart, Salman Khurshid, at the Diaoyutai State Guesthouse in Beijing. After the talk, the two signed a protocol on cooperation in bilateral relations between the two ministries of foreign affairs. Wang Jing / China Daily
Foreign Minister Wang Yi met Khurshid in the evening. After the talks, a protocol was signed to boost cooperation of the two countries' foreign ministries.
Wang highlighted the significance of Khurshid's visit, saying ties between Beijing and New Delhi are now embracing new opportunities.
"At present, the China-India relationship has shown a good momentum of development, as both sides are actively preparing the exchanges of visits between our leaders within this year," Wang said.
He said China and India need to work toward the common goal of further pushing forward the strategic and cooperative partnerships.
Khurshid said he believes a good working relationship can be established between the two governments, as China and India, two important countries in the world, are playing critical roles on the global stage.
As his first visit to China after assuming the position, Khurshid said he will be committed to expanding and deepening bilateral relations.
The visit came one day after Khurshid said in India that he was "comfortable" with the way India and China showed "tremendous maturity" in handling the border standoff that started in mid-April.
"The incident was handled at a proportional, limited and localized level. This fundamental understanding was developed over the past several years," Khurshid told journalists on the eve of his first visit to China as foreign minister.
The issue has now been resolved peacefully with the two countries agreeing to restore the status quo along the Line of Actual Control in the western sector of the border.
Beijing called on Monday for the two countries to work together to achieve a fair and reasonable border treaty that is acceptable to both sides. An Indian foreign ministry source in New Delhi told AFP that discussions on a cooperation agreement for better communications on the Line of Actual Control were "most likely".
Ye Hailin, an expert on South Asian studies at the Chinese Academy of Social Sciences, said the two ministers "will touch upon the border confrontation, but it is definitely not the point of the visit".
Khurshid is in China mainly to make diplomatic arrangements with China, he said. It has been reported that a Chinese leader might visit India soon, but that has yet to be confirmed.
Khurshid said on Wednesday he eyed "huge potential" in cooperation between the two nations and was expecting to build good working and personal relations with Wang.
During the trip, "both countries will discuss the future, and the leadership is committed toward that and the great things India and China can and must do together", he said.
He said both countries were ancient Asian civilizations and should "accommodate" each other's fundamental interests on issues such as border disputes with patience.
"We can learn from each other's experiences. Although we cannot be completely alike, we could align our position in the future over various issues," he added. The Indian source told AFP that commerce will feature "prominently" in the visit, describing India's trade deficit with China as a "huge issue".