Police step up fight against jaywalkers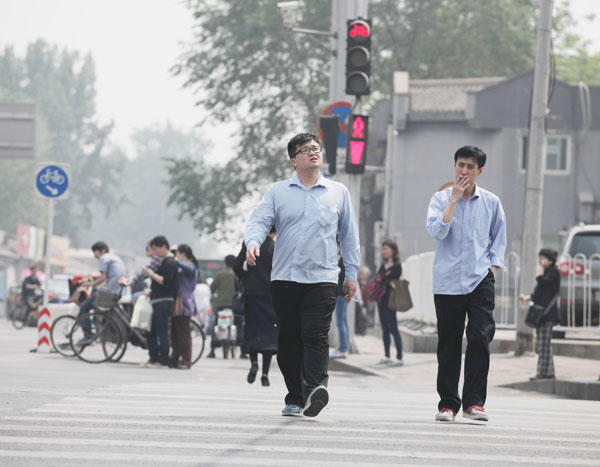 Jaywalkers at a crossing near Chaoyangmen in Beijing on Monday. The capital has started to impose fines on jaywalkers. Wang Jing / China Daily
Since December, Beijing has adopted measures to address the issue, but it hasn't been easy.
"The greatest difficulty we face is the misunderstanding and lack of cooperation of pedestrians and cyclists, especially some tricyclists," Wang said.
On Monday morning, three cyclists were fined for running a red light at a crossroad near Di'anmen, Mirror Evening News reported.
One traffic warden said their job will become easier as more understand the new rules. However, at the nearby Dongsishitiao crossing, jaywalkers could be seen at any red light because there are no traffic wardens or police officers there.
A migrant worker in western Beijing named Gao said he only learned of the anti-jaywalking campaign on Monday. Gao, one of the jaywalkers at Di'anmen, said he supported fining jaywalkers.
Zhao Yuhua, 47, a vendor at Dongsishitiao Street, said,"I dare not ignore red lights. Life and safety are more important."
Zhao has seen several accidents caused by jaywalking this year.
Many pedestrians have complained that they sometimes cannot get across the road in time at green lights, Zhao said.
The rudeness of drivers who don't yield to pedestrians is also a problem, Zhao said.
In a statement on Monday, the Beijing Traffic Management Bureau said it has checked traffic lights, signs and painted lines at 150 major crossroads in the capital and repaired 178 problems out of the nearly 300 found in April.
The bureau vows to solve the rest of the problems as well and to improve the regulation of traffic lights as soon as possible.