Police step up fight against jaywalkers
Beijing's traffic authority announced on Monday it is getting tougher in its continuing campaign against pedestrians and cyclists who ignore red lights.
Traffic police took up positions at 150 major junctions during rush hours on Monday and many jaywalkers were fined. "The campaign against jaywalkers has been going on since April, and 20,000 cases have been reported so far," said Jiang Jing, a spokeswoman for the Beijing Traffic Management Bureau.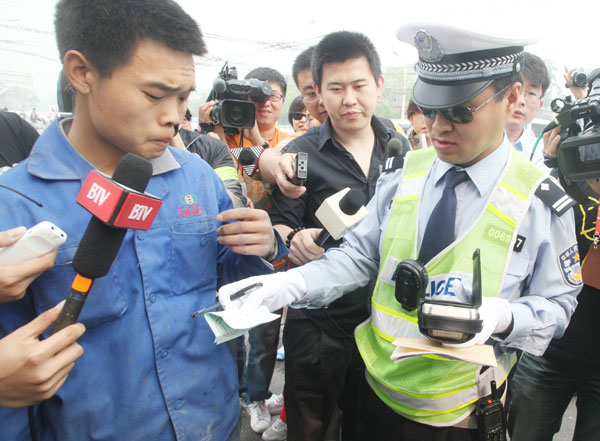 A tricyclist who rode on a motorway is fined 20 yuan ($3.20) at an intersection near Di'anmen in Beijing on Monday. Zhang Yujun / For China Daily
Under a new regulation, pedestrians and cyclists who ignore red lights will be fined 10 yuan ($1.60) and 20 yuan on the spot.
"We will focus throughout this year on cracking down on pedestrians and non-motorized vehicles running red lights," Wang Anguo, deputy director of Beijing's Xicheng district traffic management department, said on Monday.
Since the campaign started, traffic police and wardens have been educating jaywalkers and red-light runners, and the public's awareness has also been raised.
Violators will face heavy fines or administrative punishment, Wang said.
Meanwhile, the traffic management department will repaint pedestrian crosswalks at some intersections, he said.
The campaign in Beijing, as well as similar anti-jaywalking initiatives in many other Chinese cities, comes after a heated online debate about the "Chinese style of crossing the road", when a group of pedestrians ignore red lights.