First H7N9 flu case in Taiwan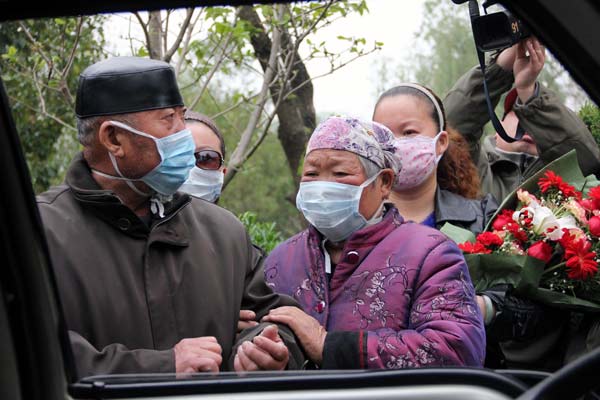 A man previously infected with the H7N9 bird flu virus in Zhoukou, Henan province, has recovered and was discharged from a hospital on Tuesday. Jin Yuequan / For China Daily 
Vaccines are 'not recommended' at present, says WHO expert
Taiwan confirmed the first case of H7N9 bird flu outside the Chinese mainland on Wednesday, and World Health Organization experts investigating the disease in China said the same day it was "one of the most lethal influenza viruses" seen so far.
Health authorities in Taiwan said the victim is a 53-year-old male who returned on Tuesday from Suzhou, Jiangsu province, via Shanghai. The man had a fever, cough and a running nose when he arrived at Taiwan Taoyuan International Airport, and was sent directly to a hospital for tests where he was confirmed to have H7N9.
By 4 pm Wednesday, one person diagnosed earlier in Jiangsu province died, but no new case of H7N9 infection was reported on the Chinese mainland, which has confirmed 108 cases and 23 deaths since the first infections were announced on March 31.
"This is definitely one of the most lethal influenza viruses we have seen so far," said Keiji Fukuda, a leading flu expert from the World Health Organization, who has led a team on a five-day visit to China to study H7N9.
Fukuda told a news conference on Wednesday that the H7N9 virus was more easily transmissible from poultry to human than the more common H5N1 strain of bird flu, which has killed more than 360 people worldwide since 2003.
Experts had previously remarked on the "affinity" of H7N9 for humans.
"When we look at influenza viruses, this is an unusually dangerous virus," Fukuda said, but he added: "We are really at the beginning of our understanding."
The experts, here on invitation from the National Health and Family Planning Commission, released their findings on Wednesday after a joint assessment of the virus with their counterparts in Beijing and Shanghai.
The WHO, however, does not recommend the production of vaccines.
"Over the past three weeks some potential vaccines have been developed. They are being developed just in case. Right now, there is no recommendation to go ahead and produce vaccines against this virus," said Nancy Cox, director of the WHO Collaborating Center for Surveillance in Atlanta.