Spanish party seeks ties with CPC
The People's Party of Spain intends to strengthen ties with the Communist Party of China, with possible high-level exchanges and a batch of agreements between Beijing and Madrid on China's investment in the European Union member state, according to a senior official of Spain's ruling party.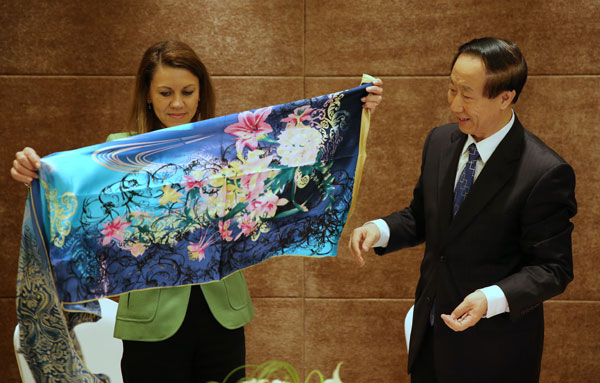 Wang Jiarui (right), vice-chairman of China's top political advisory body and head of the International Department of the CPC, on Tuesday meets Maria Dolores de Cospedal, secretary-general of Spain's ruling People's Party during the fourth China-Europe High-Level Political Parties Forum in Suzhou, Jiangsu province. Wang presented a silk scarf made in Suzhou to de Cospedal. Xu Jingxing / China Daily
Spain, with plenty of potential for foreign investors, has become more open to Chinese investors by simplifying governmental procedures, Maria Dolores de Cospedal Garcia, secretary-general of the People's Party of Spain, said on Tuesday.
She was commenting during the fourth China-Europe High-Level Political Parties Forum, which opened on Monday in Suzhou, Jiangsu province.
"The country, including the education ministry and the Cervantes Institute, will also welcome and facilitate Chinese faculties and students studying in Spain, and we hope they can promote the Spanish language and Spain's tourism at the same time," said De Cospedal.
The Cervantes Institute is a worldwide nonprofit organization created by the Spanish government in 1991, to promote Spanish language teaching and knowledge of the cultures of Spanish speaking countries throughout the world.
Trinidad Jimenez Garcia-Herrera, social affairs secretary of the Socialist Workers' Party of Spain and foreign minister from October 2010 to December 2011, said Spain appreciates China's support for Europe and Spain's economic difficulties, including buying Spanish government bonds to help the country deal with market concerns about its solvency.
China is Spain's largest trade partner outside Europe. Economic cooperation with China, including $7.5 billion worth of agreements signed in January 2011 during then-vice-premier Li Keqiang's visit to Spain, was seen as a boost for the country's recession-hit economy.
Jimenez said Spain and the EU benefited from strengthened ties with China, and called for China to seek a bigger role in the international community.
"Closer China-Spain relations also helped Spain to improve ties with other countries, while we will also continue committing to promoting relations and mutual trust between the EU and China," she said.
Spain has long been calling for the EU to consider lifting the arms embargo on China and grant full market economy status to the world's second-largest economy. Cooperation between Europe and China has been comprehensive, with one of the focuses being on security, Jimenez said when asked about the common destiny that Europe and China share.
De Cospedal added, "It is important for parties with different political beliefs and countries to communicate and cooperate with each other to tackle global challenges."
Related readings:
China 'aims to share its dream with world'
Cyprus 'will survive' financial crisis
Economic transformation creates opportunities for Europe
4th China-Europe High-Level Political Parties Forum