Rescue continues on the second day of quake
YA'AN, Sichuan - Search and rescue continued Sunday as death toll from Saturday's devastating earthquake climbed to 180 in Southwest China's Sichuan province.
In Baoxing, a county isolated by the 7.0-magnitude quake, 26 people were confirmed dead and about 2,500 were injured, county head Ma Jun told Xinhua.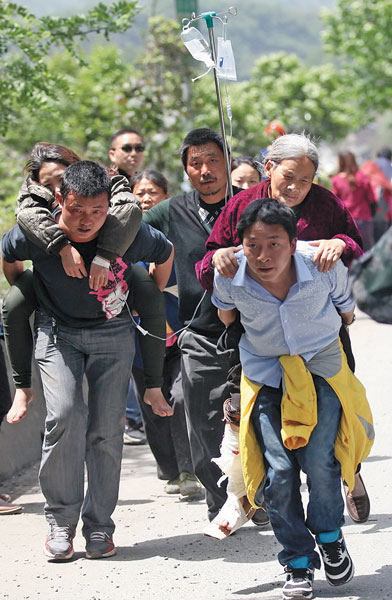 People are rushed to hospitals in Lushan county, Southwest China's Sichuan province, on April 20, 2013. [Photo/Xinhua]
He said the quake damaged almost every home in Baoxing, with a population of 58,000, including newly-built homes after the devastating quake of 2008.
Water, electricity and gas supplies were all cut off, said Ma.
Many local residents spent the night outdoors, short of food, water and clothing, as there were not enough tents for every family and people were afraid of returning to their ramshackle homes to get supplies amid constant aftershocks.
As of 9 am, 11 of the critically-injured survivors had been carried out of the quake-leveled Lingguan town, and more than 20 others were still waiting to be airlifted.
"The top priority is to save lives," said Ma. "Meanwhile, we'll resettle the residents and reopen roads."
A team of electricians from the Sichuan power company were airlifted to Baoxing County Saturday night, hoping to restore power supplies as soon as possible.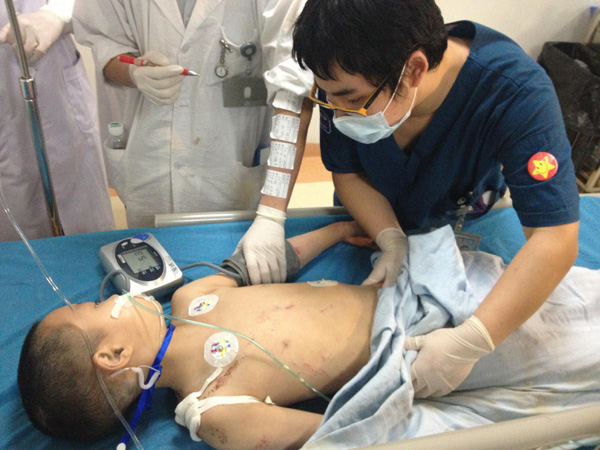 Medical workers from Huaxi Hospital of Sichuan University conduct treatment for Huang Xiao in Chengdu, the provincial capital of Sichuan on Sunday. The child was injured by his collapsed home in a village in Baoxing county, Ya'an city, on Saturday. [Photo/Xinhua] 
Meanwhile, more than 700 rescuers had hiked to Lingguan town as of Sunday morning.
The quake shook Lushan County in Ya'an, a city near the provincial capital Chengdu, at 8:02 am Beijing time Saturday.
Premier Li Keqiang arrived at the quake zone on the same day and told rescuers to waste no time and save as many lives as possible.
Near the quake epicenter Longmen township, which reported the largest number of casualties so far, residents and rescuers spent a sleepless night. Relief supplies were still on the way, as roads linking Ya'an city proper to the epicenter were congested.
Yang Jian, a native of Longmen who works in Chengdu, hiked more than 10 hours home and joined the team of volunteers shortly after his arrival.
His family's three-story home was damaged and a 15-year-old cousin was killed. His legs were swollen from the hiking. "I'll try to save others' lives and when I end up in danger someday, I might get the help I need, too. Kindness is always mutual."
Two trucks of supplies from Chengdu's Red Cross arrived at 4 am "We drove for 12 hours to bring in 106 tents and 100 quilts," said Jiang Zhongfa, a relief officer.
Wenchuan County, the epicenter of the 2008 quake, sent a team of 150 rescuers to Longmen Saturday, including 20 field specialists experienced in saving lives from debris and mountain, an expertise they learned from the Wenchuan quake.
More than 30 medical workers from the Longmen Township Hospital spent a sleepless night, keeping an eye on the injured and waiting for potential emergency cases. "The critically injured patients were sent away to larger hospitals during the day," said Zhang Ling, a nurse. "But we need to take good care of those who stayed."
Cai Kunjun hitchhiked from Chengdu to Lushan at midnight. The 34-year-old veteran said he was making up for his absence during the Wenchuan quake. "I was in the southern province of Guangdong that year and was unable to provide any help."