Apple on sale for $980
How much will you spend on an apple? Not from Steve Job's creative technology or the Zeus' beauty label, but an edible apple.
A store in China is selling them at 5,880 yuan ($980).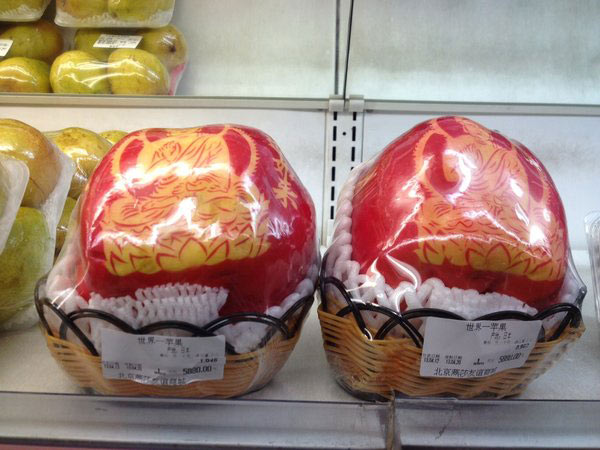 Two apples, each labeled a price tag of 5,880 yuan, are laid for sale at the Beijing Lufthansa Center on April 17, 2013.[Photo by Hong Yu/CFP] 
Rui Chenggang, a popular Chinese TV anchor, posted a photo of an apple with a price tag of 5,880 yuan on Tuesday night on his Sina Weibo.
The costly apple was on sale at the Beijing Lufthansa Center. The apple, covered with a Buddha image, came from Japan.
A netizen commented: "It is more expensive than an Apple phone (iPhone)." China News Service reported on Thursday that the apple had been sold in the Lufthansa Center on Wednesday.
The center told China News Service that the apple, named the Great Buddha, was originally from Aomori-ken in northern Japan. It was usually bought for religious reasons,
The center purchased eight of the apples during the Chinese New Year in February, including one that cost 8,880 yuan. Six of them have been sold and the remaining two were taken off the shelf.