Special Commune gives confidence to challenged youth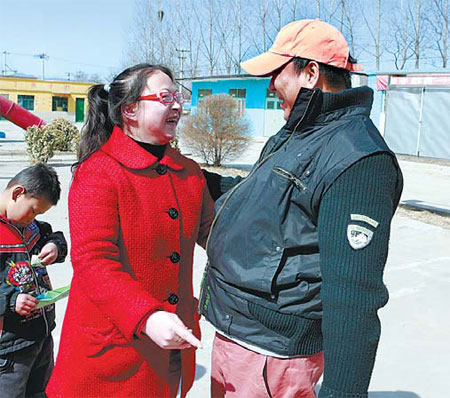 Brian Zhang (right) chats with students at the Beijing Zhiguang Special Education and Training School about an upcoming recent stage production. [Photo by Feng Yongbin / China Daily]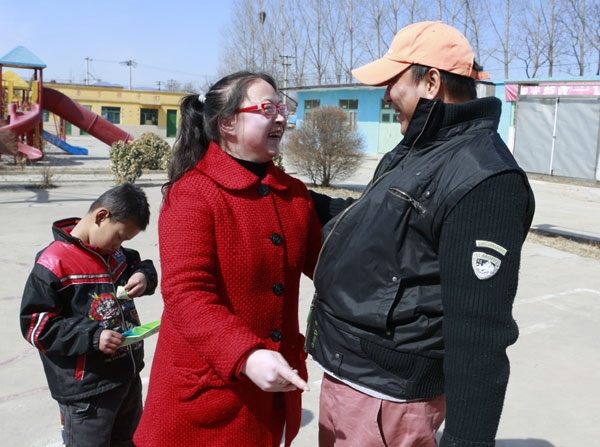 Brian Zhang (right) chats with students at the Beijing Zhiguang Special Education and Training School about an upcoming recent stage production. [Photo by Feng Yongbin / China Daily]
It has trained them to grow vegetables, but that's just a sample of the opportunities
The old gray Dodge van might look like it's not going to make the 45-minute trip to Beijing's northern suburbs, but it roars up the road as confidently as its driver.
Brian Zhang is driving north of Beijing to Special Commune, a residential community he runs for young people with mental disabilities. You don't have to ride with him for long to sense that he's an actor - and that's very much to the point.
Designed to train students with disabilities in jobs that can help them integrate into society, Special Commune's first task is to make children believe in themselves. One-time child actor Zhang has the perfect answer: Put them on a stage.
Many of the students have Down Syndrome or other genetic disorders. They are a class of people often set aside by a society that doesn't expect them to be participants.
"So they don't expect to be part of the outside world themselves," says Zhang. "That's the first thing we can change: We put them in a production of, say, Snow White and the Seven Dwarfs with a cool costume and a supporting cast that believes in them. The parents see that, our sponsors who can offer potential employment see that, and now everybody is a believer."
Zhang is a believer in social entrepreneurship, a recent phenomenon that he says combines the best of both the business and charity world.
"Making donations makes people feel good," he says, "but we want to break out of that 'begging cup in the hand' mold. It's not sustainable, and it's not healthy for the people who receive the handout to be victims as long as they live."
By teaming up with the Beijing Zhiguang Special Education and Training School, founded by Zhang's mother in 1998, Special Commune each year offers internships for about 30 learning-challenged adults between 19 and 35 years old. During their six to 10 months on the farm, they learn to plant and cultivate vegetables in a food co-op program sponsored by neighboring Little Donkey Farm. Members of the co-op can collect boxes of just-picked produce every week that is fresh, seasonal, organic and provides support for the disabled community.
Besides learning skills that can produce cabbages, leeks and fresh-laid eggs, Zhang says, the students learn to interact with the farm's staff and clients. "Ultimately, they can be employed in basic hotel and hospitality jobs," he says. About 40 have been through the program already, tutored by a staff of 10.
The commune's living space, meanwhile, is designed to teach residents to take care of themselves. And skills taught in the communal kitchens, for example, also help to make them employable in simple jobs.
On the immediate horizon is a property-management contract, under which Special Commune residents will staff a nearby resort complex. Zhang drives us to the facility and leads an animated walk-though - "Look at this, have you seen anything like it in China?" he asks, waving his arm toward a row of wooden houses sporting colorful paint jobs that would be right at home on Cape Cod in the US.
He spits out facts, figures and benefits in the quick, clipped style of a machine gun, an eager pitch that's part Donald Trump, part Mother Theresa - but never condescending toward those under his wing.
"We've written grant proposals from time to time to meet our needs," Zhang says, noting that the New York City-based Ford Foundation has been a major supporter.
"But fundraising is to us a old business model," he says. "We tend to be self-sustainable as social enterprise - though that's easier said than done. It will be the only way sooner or later - you need to support yourself while doing good for society."
Longer term, Zhang wants to combine long-term sustainable care for his young people with care for another vulnerable group: Seniors.
"That's the next thing you know what we call 'snow birds' in the United States?" says Zhang, who worked for a number of years in Atlanta before returning to his native Beijing more than 10 years ago. "Imagine having a community for mobile homes somewhere in China that's nice and warm in the winter - like Hainan - for older folks to go to in the winter," he says.
"It's a perfect fit think about it. On the one hand, you've got kids who have never grown up. On the other, you've got grown-ups who are practically kids again."
Many such seniors may be parents of a single child who has moved away, and they are reluctant to trust or bond with strangers, even an ayi. But the graduates of Special Commune are no threat.
Young and old can provide companionship for each other, he says, and the Special Commune interns will be taught some simple skills needed to assist seniors in their daily living. "Together with our staff, we can bring five-star service: cooking, cleaning, medical reminders, companionship."
His eyebrows dance upward as he turns up both palms: "One stone, two birds."
Meanwhile, it's early spring at Special Commune. It's quiet now, but work crews are busy preparing the dormitory for another group of residential interns. Apple trees are starting to sport bright red leaf buds on their sun-washed branches.
Another season of promise lies ahead.
michaelpeters@chinadaily.com.cn