Private museums want more support
XI'AN - The curators of dozens of private museums in China have called for more government and social support to solve their financial problems.
"Funding shortages and poor self-funding ability are the biggest challenges for privately-owned museums," said Wang Bin, curator of the Tang West Market Museum in Xi'an, capital of northwest China's Shaanxi Province.
As the majority of government-funded museums are free to visitors, most private museums that rely on themselves are facing a financial dilemma: they will have no income if they are free, but no visitors if they charge, Wang said at a seminar on private museum development held in Xi'an from Saturday to Wednesday.
"Depending purely on ticket revenue will not bring considerable economic interest," he added.
Wang's museum has been financially backed by an enterprise and earns money by organizing exhibitions.
According to the State Administration of Cultural Heritage, China had 535 private museums as of the end of 2012, accounting for 14.9 percent of the country's 3,589 museums.
The construction of every five new museums should include one private museum, according to a plan issued by the administration of museum development.
Ambiguous social and legal status, as well as poor management, have hindered the sound operation of private museums, according to a proposal on establishing a national private museum association that was signed by the managers of more than 60 private museums at the seminar.
"Where does the money come from? I think they could learn from oversease experience," said Song Xiangguang, a professor of archaeology and museology at Peking University.
Private museums in the U.S. enjoy diversified sources of funding. In addition to tickets, they rely on government grants, souvenirs, membership fees and donations, according to experts.
Song said the national private museum association could help its members attract sponsors and visitors by sharing resources and experience.
The Sandu Museum in Chengdu, capital of southwest China's Sichuan Province, has always been free to visitors. The construction of the museum cost nearly 40 million yuan (about 6.4 million U.S. dollars). The annual fees for its employees' salaries, as well as its daily maintenance, amount to about 6 million yuan.
"Last year, the government gave me a subsidy of 600,000 yuan. But the sum was far from enough," said Gao Xinghua, owner of the museum.
Gao is also chairman of a large real estate development company.
"I have a company to make up for the losses of my museum. But many other private museums do not have financial support from companies and face great financial difficulties," said Gao.
Gao said the government should provide more policy support and funding to help the museums survive.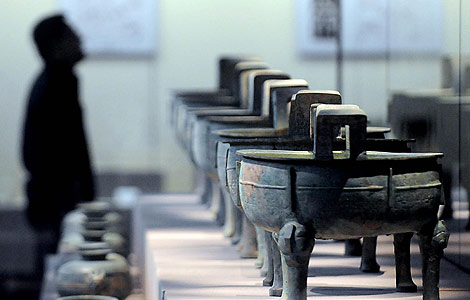 A visitor looks at bronze ritual vessels at a museum in Luoyang, Henan province, April 7, 2013. [Photo/Xinhua] 
Li Tao, curator of a clock and watch museum in northeast China's Liaoning Province, relies on rental fees from the property he owns to support the museum, which is also free for the public.
Li said he hopes the new association can help private museums to find more sound operational methods.
"Having a national private museum association could help preserve and protect cultural heritage, which is not only the responsibility of the government and individuals, but also that of society," Song said.
He said he hopes the association will strengthen exchanges between private museums and help them get more attention from the government and society.