Cities urged to step up drainage improvements
Heavy rains in Beijing last summer prompt action to prevent flooding
The State Council has issued a notice urging cities to step up the construction of drainage networks to prevent flooding during the country's traditional rainy season.
The notice said cities should complete a plan to carry out necessary work before the end of 2014, and that the building of functional systems should be completed within 10 years.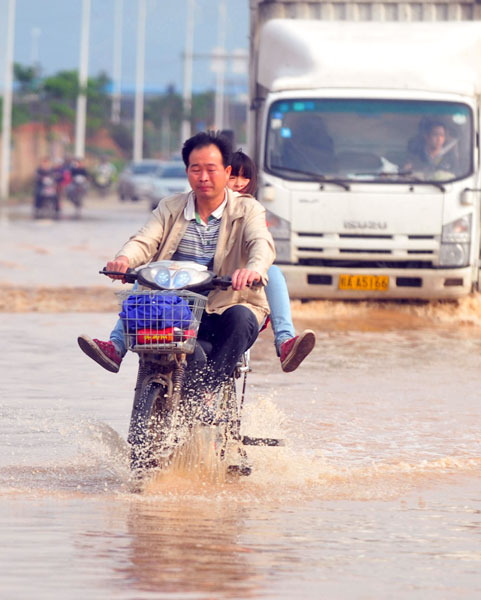 People wade through water on a bicycle in Nanning, capital of the Guangxi Zhuang autonomous region, on Tuesday. Several cities in the region have issued rainstorm alerts. HUANG XIAOBANG / XINHUA
They are also required to submit updates on any work being done to separate rainfall from sewage within five years, it said.
Cities should identify any potential dangers in their networks before this year's rainy season — which runs normally from May to October — to avoid casualties and property loss, it said.
Specifically, the notice requires governments to collect information on surface runoff, drainage facilities and water storage.
Designs should include drainage and flood-prevention plans that take into account local rainfall records and any potential risks that rainstorms could trigger.
Any construction of a drainage system should be arranged to minimize the ecological effects on local water supplies.
The notice requires authorities to increase investment, improve law enforcement and establish contingency mechanisms.
It also demands that flood prevention work should be included in future government performance evaluations, and requires the replacement of roads which do not have high water permeability.
Xie Yingxia, the deputy director of the Institute of Urban Water and Engineering under the China Academy of Urban Planning and Design, said flooding is very common in Chinese cities during the rainy season, and that the deadly floods that happened in Beijing last summer had emphasized the importance of updating drainage systems.
Torrential rain in July triggered floods in the capital that killed 77 people, and affected 1.9 million.
Poor drainage systems were largely blamed for the disaster.
"Cities have emphasized construction above road level in the past. It is now urgent to intensify the building of efficient underground infrastructure too, including drainage systems," Xie said.
She said building functional drainage systems will be complicated, especially in big cities.
State Council plans of this scale normally take two years to complete a blueprint and another seven to eight years to implement, she said.
Some provinces, such as Jiangsu and Anhui, started making plans in 2011, Xie said.
"The national plan reveals the central government's determination to tackle flooding problems brought about by rapid urbanization," she said.
Xie said the update of drainage networks that separate rainfall from sewage may take longer because in many places there is only one underground canal, which carries rainfall together with sewage to sewage disposal plants.
In some cities, rainfall directly runs into rivers and is wasted, she said.
Xie believes it would be effective to build roads with high water permeability to help mediate waterlogging.
Rainfall collection systems could be built under parking lots, squares and sports venues to store water, she suggested.
Yang Hongshan, an urban planning expert at Renmin University of China, praised the inclusion of drainage construction in overall city planning.
He said that governments have often been too politically driven and real estate developers have focused too heavily on profit, without taking urban development into account, he said.
The central government's notice would guarantee the investment of construction of drainage systems when developing land, said Yang. "To some extent it's the government's self-correction in this matter."
chenxin1@chinadaily.com.cn