Uygur women sign up for life on the ocean wave
Having three sisters from a Uygur household serving in the People's Liberation Army navy is a source of pride for the family of Aytulun Xukrat from Turpan, Xinjiang.
"It is an honor that I am among the first 20 Uygur women to serve our country in the navy," said the 19 year old, who works in the communications section on the Jinggangshan, one of the Chinese navy's most advanced landing craft.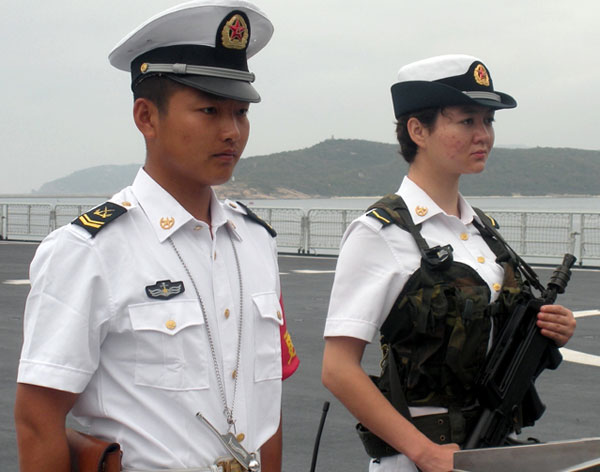 Aliya Arkin, a female Uygur, stands guard on the Jinggangshan, a PLA navy South Sea Fleet landing craft. Wang Qi / for China Daily  
"After I was recruited in 2011 and later joined the navy's South Sea Fleet, two of my younger sisters followed suit and are now serving in the North Sea Fleet and East Sea Fleet. We are the pride of our family."
The Chinese navy has three fleets and began to enlist Uygur women in 2011. The move has triggered the enthusiasm of a large number of these women who harbor dreams of becoming sailors.
Aliya Arkin, 20, from Aksu, also in the Xinjiang Uygur autonomous region, operates navigation radar on the ship. "I grew up with my grandparents, and my grandpa is a PLA veteran. He always told me about his life in the army and the brotherliness between him and his comrades.
"I wanted to see the ocean and liked the PLA navy's uniforms very much, so I decided to join when I saw a notice on a local TV program that the navy was recruiting female sailors from the Uygur ethnic group."
She was successful and sent to the Jinggangshan in the South Sea Fleet with Xukrat and another three Uygur women.
The women said they spent six months overcoming seasickness after joining the ship on Aug 26.
Xukrat said:"Just one week after we boarded the ship, we started a long-distance voyage, which enabled us to see what the sea is really like." She added that she never imagined she would serve on a large ship thousands of kilometers from home in Turpan.
"When I applied to join the navy, we were taken to a recruitment office in my university and shown a large map of China," she said. "A PLA draft officer pointed at the sea and told us: 'This is where you are going to be, and it is very far from here'.
"Finally, I was chosen and the other students ruled out because each university only has a limited quota," she said.
She suspended her studies at Xinjiang Normal University to prepare for a new life at sea.
She said before joining the navy, she often wondered what her new life was going to be like. But although the training is arduous, all the crew are cared for well and can enjoy a variety of entertainment in their spare time.
"We Uygurs are also taken care of in terms of our ethnic customs - the ship has allocated a special kitchen and designated a cook to make halal food for us."
Nurbiya Ablim, 19, a signals operator from Turpan, said: "At first I couldn't endure the tough training. We would train for four hours under the scorching sun each day. But now I am used to the life."
She said she wants to attend a military school, to enable her to continue to serve in the PLA after her two-year stint ends.
Her hopes are shared by other female Uygur sailors.
"All of us want to continue to serve in the PLA in the future because we can learn a lot and life in the military is self-promotion for us," said Aynur Alim, who is 21 and a radar operator on the ship.
In addition to their military roles, the Uygurs also promote their culture and history and that of Xinjiang.
Xukrat said: "A lot of my shipmates who come from other places are very curious about Xinjiang, so I have spent hours telling them about my life there and stories about my hometown."
Hu Zhihao, the political commissar of the Jinggangshan, said:"They have told me they cherish the chance of serving in the navy." They have no special requests for their living conditions on the ship and have good relations with sailors from other ethnic groups.
Hu said the Uygurs cannot perform duties on their own, due to language problems. The ship has assigned an officer to help them improve their Mandarin.
Arkin said:"My comrades come from many places in our nation, and we have become friends. I will invite them to Xinjiang and to my beautiful hometown after I return home. And even if one day I retire from the navy, I will never forget my brothers and sisters in the PLA."