China's new stealth frigate commissioned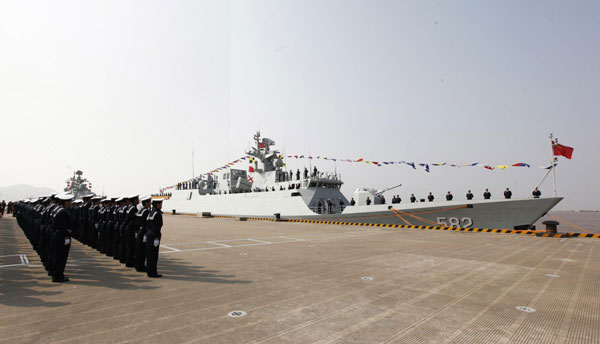 The Chinese Navy held a commissioning ceremony for the frigate Bengbu in Zhoushan, Zhejiang province, March 12, 2013. The Chinese-developed next-generation stealth frigate was commissioned to the People's Liberation Army Navy (PLA Navy) on Tuesday. [Photo/Xinhua]
HANGZHOU - A Chinese-developed next-generation stealth frigate was commissioned to the People's Liberation Army Navy (PLA Navy) on Tuesday.
The country's first "type 056" stealth frigate, formerly known simply as ship 582, was renamed Bengbu at a commission ceremony held in a naval port in Zhoushan, a coastal city in East China's Zhejiang province.
Bengbu is the name of a prefecture-level city in East China's Anhui province, which literally means "oyster wharf" in Chinese.
A senior navy general endorsed a PLA flag and naming certificate to the naval unit receiving the frigate.
Type 056 frigates are a new generation of vessels developed independently by China and expected to be deployed primarily for escort missions and anti-submarine operations.