Fast walking tops popular exercise list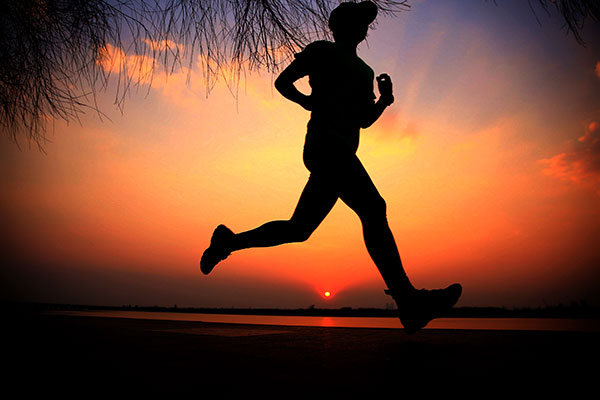 A runner exercises along the Songhua River in Harbin, Heilongjiang province, in April. ZHANG SHU/CHINA DAILY
A recent survey by social networking app QQ has unveiled that fast walking topped all exercise activities in China in 2016 due to its accessibility and low cost.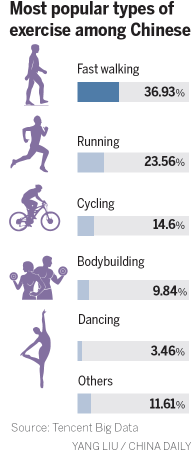 According to the results of more than 30,000 questionnaires, nearly 37 percent of respondents chose fast walking as their favorite exercise, while more than 23 percent selected running and more than 14 percent picked cycling.
The report also featured a city exercising index, which evaluated facilities, fitness services and residents' participation in exercise to determine how active they are.
Despite abundant sports infrastructure in cities like Beijing and Shanghai, it was Guiyang, capital of Guizhou province, that proved the most sports-engaged city last year.
Lin Citong, Tencent QQ senior PR manager, said the app's physical-tracking functions, such as counting users' daily steps, helped provide data to generate the index.
"As a relatively new concept, the city exercising index might not be authoritative enough to reflect the comprehensive status of exercise participation in a city. But it's a valuable reference for exercise availability in a city and locals' activeness in doing exercise because of the metadata collected firsthand from our vast user base," she said.
The findings showed that outdoor events such as long-distance running, hiking and cycling are enjoying a boom in popularity.
According to the Chinese Athletic Association, 328 marathons were held across China last year, attracting 2.8 million participants.
The number of long-distance running events, including half and mini marathons, is expected to hit 600 by the end of this year, with an estimated 5 million participants, according to the association.
"Running and walking are easily accessible ways of exercising, which is why they are attracting so many people every year," said Wang Dawei, vice-president of the association.
"Chinese, especially the health-conscious urban middle class, are more prone to do exercise outdoors in nature rather than being stuck in gyms," Wang said.
"It's not strange that some relatively remote cities with better environments and clean air have begun landing major events and providing better fitness facilities," he said.