China's forestry developments in 2012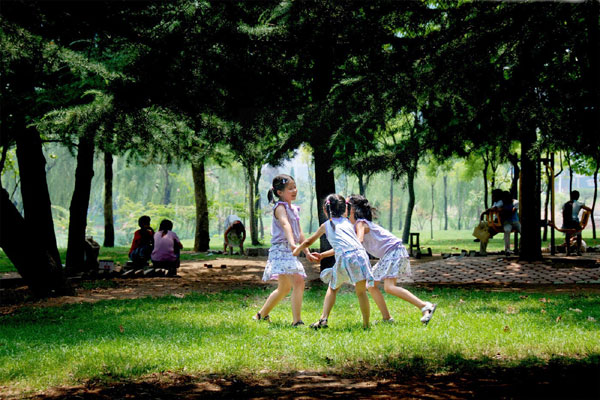 Children have fun in a forest in Yiyuan county, Shandong province on May 4, 2010. [Photo/Xinhua]
BEIJING - China's National Afforestation Committee released a bulletin showcasing developments in the forestry sector in 2012 to mark the country's 35th Tree Planting Day.

The following are some basic facts about the developments in the country's forestry sector:
Tree planting: A total of 600 million volunteers participated in tree-planting activities in 2012, with 2.6 billion trees planted throughout the year.
By the end of 2012, volunteers nationwide had planted 64 billion trees since the government first encouraged participation in such activities in 1981.
Forestation: China's engineering efforts created 6.01 million hectares of forestry areas in 2012.
Projects aimed at tackling sandstorm problems in Beijing and its neighboring Tianjin Municipality helped foster 537,000 hectares of green land last year.
In 2012, China's State Council approved a plan to invest a total of 87.79 billion yuan ($14 billion) during the 2013-2022 period to control sandstorms in the two cities.
Urban vegetation: Vegetation coverage in urban areas added 107,000 hectares from 2011 to 1.72 million hectares, bringing the coverage rate to 39.2 percent.
The average vegetation for each urban resident in 2012 increased 0.6 square meter from a year earlier to 11.8 square meters.
Desertification control: China's desertification control efforts rehabilitated more than 1.54 million hectares of desert land last year.
Nature reserves: China added eight natural preservation areas in 2012, and the State Council, China's Cabinet, elevated 23 regions as "National Nature Reserves."
At the end of 2012, China had 2,134 forestry nature reserves, accounting for 12.9 percent of the country's territory.
Wetland projects:Protection projects that China launched in 2012 helped bring 90,000 hectares of wetlands under protection and restored 20,000 hectares of wetlands.
During the 2011-2015 period, China plans to invest 13 billion yuan in wetland protection projects.
Grassland fostering: China's grassland protection projects covered 5.99 million hectares in 2012.
To date, China has contracted 270 million hectares of grasslands, accounting for 81 percent of the country's total exploitable grasslands.
Forestry management:China extended care and tended to 8.24 million hectares of forest in 2012.
Forest coverage: China aims to bring forest coverage to 23 percent, or 223 million hectares, by 2020, according to the sector's plan for the 2011-2020 period.
China's forest coverage reached 20.36 percent, or about 195 million hectares, by the end of 2008, according to the latest survey on China's forestry resources. The survey was conducted by the State Forestry Administration between 2004 and 2008, and involved more than 20,000 scientists and forestry workers.