Chilly run gets blood pumping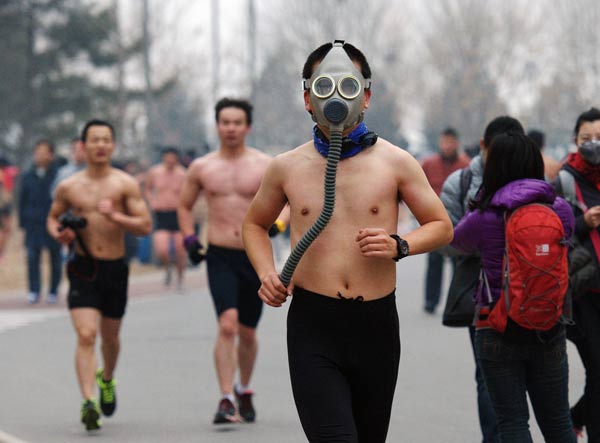 A man wears a gas mask as he takes part in a running event promoting an environmentally friendly lifestyle at the Olympic Forest Park in Beijing on Sunday. WEI XIAOHAO / CHINA DAILY

Strip down to your underwear in -2 C, run a lap in the freezing cold and your worries will be gone.
At least, that's the promise of the annual 3.5 km Undie Run, which was held in Beijing's Olympic Forest Park on Sunday with 300 participants.
There were no referees or trophies, no starting gun or finishing line. But there were a lot of laughs and bonding even before the group warm up started. The runners started circling the park at 9:40 am.
Wang Yibin, organizer of the event, said the run is a wake-up call to those who had too much to eat over Spring Festival. "It's time to confront your own body," Wang said.
Marathon season is also starting next month. "We should get in shape and be ready," Wang said.
Most of the participants were clearly athletic types. Most of them came from jogging, marathon and triathlon clubs.
One of the youngest contestants, 9-year-old Xu Xinyu, plays tennis, cycles and idolizes Li Na.
Xu peeled off her layers early and ran the race wearing a stomach-bearing blue tank top and shorts. She clocked in at a little more than 20 minutes.
"I feel only a little cold but very happy," Xu said after she finished.
Wang Wenqing, 61, who arrived at the meeting point wearing only a T-shirt and shorts, said the run is not really challenging. "I run a dozen kilometers a day in a T-shirt and never catch a cold in the winter," he said.
Wang said he came to the gathering to make friends and have fun.
"You really feel the passion when there are so many people running together in the cold weather."
Many participants turned their scantily clad bodies into canvases, painting pig heads on their front, inking numbers on their bare backs and decorating their faces with many colors.
Italian Fulvio Bartolucci wore red briefs and bare feet to celebrate Chinese New Year. He and his friends had the words: "Gang of the red weasels," written in Chinese characters on their backs.
"We're attending the Undie Run for the first time, and we want to be special," he said.
The Beijing Undie Run, now in it's second year, was started by Wang Yibin, Dang Qi and a group of their friends.
They wanted to prove that Chinese can brave the cold just as well as any nationality. This year, the race has no winners and has taken on a new theme, calling for nationwide fitness.
"Running this once will not change your body, but it's a fun and relaxing beginning to exercise and keeping fit. It's a good start," said Dang, a professional trainer and triathlon athlete.
A 3.5 km run takes about 20 minutes, and will burn around 700 calories. The Undie Run will return next year on the last Sunday in February.
Contact the writer at sunye@chinadaily.com.cn