Migrant workers invited to prominent holiday gala
BEIJING -- Four migrant workers were invited to a high profile gala on Saturday evening, which was once mainly reserved for distinguished intellectuals.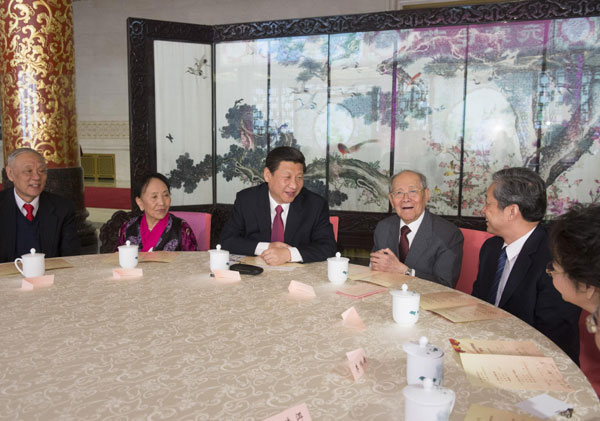 Xi Jinping (C), General Secretary of the Communist Party of China (CPC) Central Committee, talks with noted intellectuals during a gala to celebrate China's traditional Lantern Festival at the Great Hall of the People in Beijing, capital of China, Feb. 23, 2013. The CPC Central Committee hosted a gala on Saturday evening to celebrate the Lantern Festival, which falls on Feb. 24 this year. [Photo/Xinhua]
Chinese leaders Xi Jinping, Li Keqiang, Zhang Dejiang, Yu Zhengsheng, Liu Yunshan, Wang Qishan and Zhang Gaoli were present at the event organized by the Communist Party of China (CPC) Central Committee to mark the upcoming Lantern Festival.
New guests to this year's show also include representatives from different sectors and model workers.
Liu Yunshan hosted the gala and in his speech highlighted the contribution of intellectuals and ordinary workers to the country's achievements and called for joint efforts from ordinary workers in all walks of life to contribute to the nation's great rejuvenation.
China has 260 million migrant workers by 2012. They usually leave their hometown to seek employments in urban areas.
The Lantern Festival falls on Sunday this year and traditionally marks the end of the Spring Festival season.