Provinces urged to buy insurance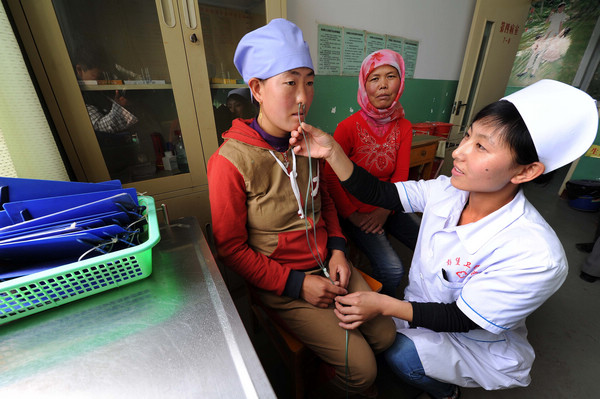 A patient is treated at Pengbao township health center in Guyuan, the Ningxia Hui autonomous region. [PENG ZHAOZHI / XINHUA]
Government says coverage will ease burden caused by medical expenses
The Ministry of Health urged provinces to buy commercial insurance for rural residents to lower the financial burden caused by medical treatment.
The New Rural Cooperative Medical Scheme — a public insurance program for rural residents, which is run independently by each province — will spend about 15 yuan ($2.38) per person annually to buy commercial insurance for farmers in some provinces, thus they will spend less in treating severe chronic diseases.
Announced by Health Minister Chen Zhu on Thursday, this is the latest measure to help rural residents cope with some severe chronic diseases.
The move comes after the National Development and Reform Commission, the Ministry of Health and four other State-level government agencies issued a statement in August asking provinces to introduce commercial insurance.
According to the statement, provinces across the country should provide commercial insurance for farmers if existing health insurance programs do not cover all of their medical expenses.
If the amount they have to pay on their own exceeds the average net annual income for local rural residents, they will be offered reimbursement of no less than half of their out-of-pocket expenditure by the insurance companies.
Funds to buy commercial insurance will come from the provincial rural health insurance funds, so members of the program won't have to pay extra premiums for it, said Zhu Hongming, head of the office of cooperative medical services of the Ministry of Health's department of rural health management.
The government set 15 yuan as the national average as a result of a nationwide estimate, meaning that the expenditure for commercial insurance is unlikely to put pressure on rural insurance funds, said Zhu.
"The surplus of rural health insurance funds nationwide in 2012 reached almost 25 percent of the total fund. Regulations stipulate that the surplus should not exceed 25 percent, otherwise people are not benefiting from the insurance programs," he said, suggesting that the surplus would be enough to pay for commercial insurance.
According to Chen, in 2012, the average rural resident had about 55 percent of their hospitalization fees reimbursed by the program.
To better use the funds, Chen said the ministry hopes the reimbursement will reach 60 percent, and that provinces should "strictly control" the surplus of their rural health insurance funds and lower them from the figure seen in 2012.
The ministry is also asking provinces to reimburse at least 70 percent of the medical fees incurred by rural residents with 20 severe chronic diseases.
Once a province has signed contracts with insurance companies, the insurance program will pay for at least another 15 percent of the medical fees for treating the 20 diseases. With other government subsidies, a rural patient will pay only about 10 percent of the total fees.
Taicang county, Jiangsu province, was one of the inspirations for the program, which combines commercial insurance with public insurance.
In Taicang county, companies reimburse up to 82 percent of any out-of-pocket medical fees above 10,000 yuan for each resident.
In January, Shandong province adopted a similar program, providing commercial insurance to people with any of the 20 chronic diseases and paying more than 8,000 yuan for medical services on their own.
Several provinces such as Anhui, Qinghai and Shaanxi have also come up with plans to use their funds to buy commercial insurance, but it may take two to three years for the new pattern to be implemented nationwide, because it will take time for different provinces to invite and review bids from insurance companies, said Zhu.
However, rather than collecting commercial insurance premiums for severe chronic diseases, the rural health insurance program should focus on universal healthcare, Zhu added.
"Commercial insurance takes up only a small part of the fund. It has a limited effect in reducing financial burdens for the public, because only a few of them have such severe diseases," he said.