Relics unearth history of Shanghai shipping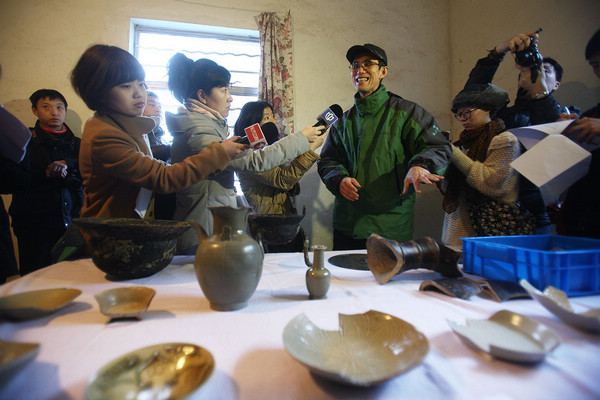 Song Jian, director of the archaeology research department of the Shanghai Museum, introduces historical relics from the Tang Dynasty (AD 618-907) unearthed at Qinglong, Shanghai, to reporters on Wednesday. [Yang Mei / for China Daily]
Discovery reveals city served as port as far back as Tang Dynasty
The history of Shanghai as an important shipping center for China, if not the world, could be older than first thought, or so the discovery of about 2,000 ancient relics from the Tang Dynasty (AD 618-907) suggests.
For decades, it was widely believed that the days of Shanghai as a port originated a century ago when the city was a small fishing town. Although the annals of the city have vividly recorded the hustle and bustle of this major port of trade for 1,000 years, researchers have had to largely rely on their imaginations to surmise the situation because of a lack of solid archaeological evidence.
"The discovery is groundbreaking," said Chen Xiejun, director of the Shanghai Museum, the co-organizer of the project that led to the discovery.
"It will rewrite the history of the urbanization of Shanghai by filling the gap in field research of the city during the Tang and Song dynasties," he said during a media tour of Qinglong town, where the relics were found.
Of the 2,000 pieces, 90 percent were porcelain, including bowls, jars and kettles. The origins of the porcelain vary greatly, from nearby kilns to some thousands of kilometers away.
"The porcelain uncovered not only proves the city was a major port of trade, but also a prototype as an international shipping center," said Song Jian, director of the archaeology research department of the Shanghai Museum.
There is a clay bowl, for example, with patterns resembling those of porcelain found in shipwrecks off Indonesia.
"It (the bowl) is a product of the Changsha kiln, which used to tailor-make porcelain for foreign countries. And it is one of the signature porcelains of the Tang Dynasty," Song said.
Other significant findings include the ruins of an iron foundry, the first of its kind unearthed in Shanghai, a 4.38-meter-deep well that is exclaimed as a piece of art by archaeologists for its fine craftsmanship, and a bronze mirror and some metal crafts that have been very well preserved.
"The finding is just the tip of the iceberg," said Song, describing the 15-square-km Qinglong site southwest of Shanghai. The 2,000 or so relics were found during the second stage of the field research of the site, which began in October.
Song and his team have so far explored just 1,500 square meters of the site.
Most of the relics have been brought to the museum for further research and protection, while remains, such as the well, will be covered for protection. Although Song did not deny the possibility of opening the site to the public, he suggested that it is unlikely in the near future as field research at the site could take years.
Located by the river network that flowed to the Yangtze River, Qinglong was historically recorded as a hotbed of traders and a commercial hub.
Ray Kuka contributed to this story.
xujunqian@chinadaily.com.cn