Wen invites foreign talents to work in China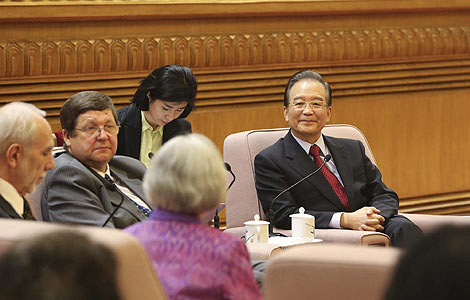 Premier Wen Jiabao talks with foreign experts working in China at the Great Hall of the People in Beijing, Jan 31, 2013. [Photo/Xinhua]
BEIJING - Chinese Premier Wen Jiabao on Thursday invited more foreign talents to work in China, pledging better conditions for them.
With the Chinese Lunar New Year around the corner, Wen extended new year's greetings to about 20 veteran foreign experts working in China's education, research, culture and health sectors. They were invited to the Great Hall of the People for a seminar with the premier on Thursday.
Wen said foreign experts have contributed to China's revolution and modernization drive, which the Chinese people will always keep in mind.
He also said China will unswervingly stick to the reform and opening-up policy.
"A nation can be prosperous only when it is open and inclusive, " the premier said, adding that the number and quality of foreign experts reflects how open and civilized a country is.
Foreign experts made about 529,000 visits to China in 2011, according to the State Administration of Foreign Experts Affairs.